Installing Blender on OSX
Software Name: Blender
Homepage: http://www.blender.org
Software version used for this installation: Blender 2.43
Operating System used for thisinstalltion: OSX (10.4.8)
Reccomended Hardware: Powerbook G4, Powermac G5, Mac Pro, MacBookPro, iMac (core Duo)
Downloading
The latest stable version of Blender for OSX can be downloaded at http://www.blender.org/download/get-blender/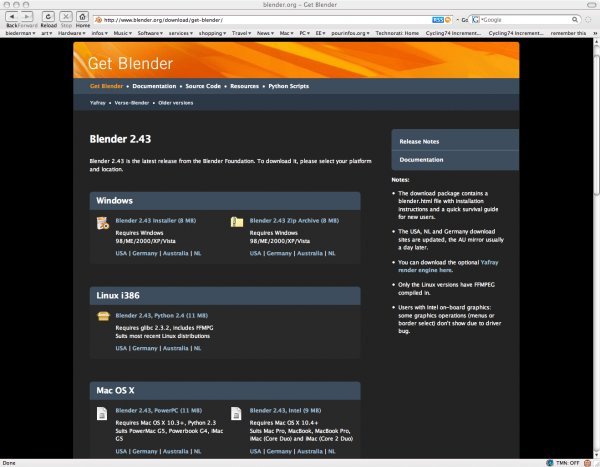 The latest version as of this writing is Blender 2.43
Click on one of the links below the "Mac OS X" heading. Select the "Blender 2.43, PowerPC" if you have a powermac G5 or G4 or a powerbook G4. If you are using a MacBook, MacBookPro, iMac(CoreDuo / Core2Duo) use the "Blender 2.43, Intel" link. Depending on your browser and its settings, you will likely see a window asking if you would like to save the file. Select Save File.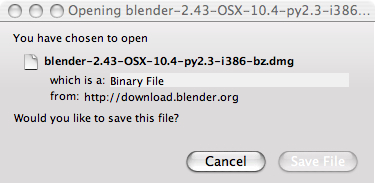 Installing
Once the download is complete you should see something like this on your desktop or in the folder that your web browser is set to download into: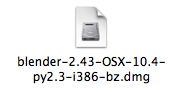 Double click on it to begin installing the software. You should now see a finder window with a disk image named "blender-2.43-darwin-8.8.1-i386" (the name of the disk image may be different if you are installing a different version than shown here) open: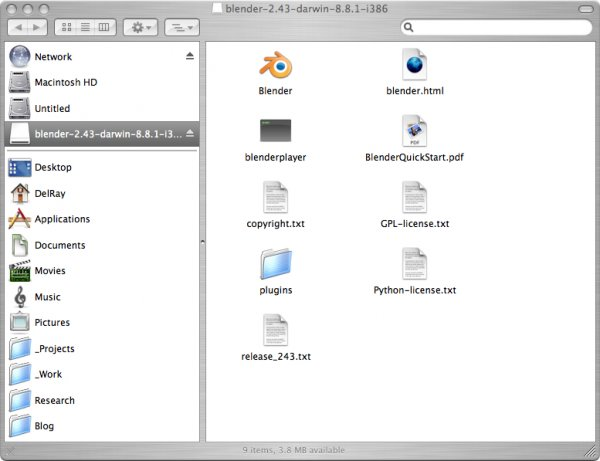 All you need to do now to complete the installation is copy the disk image into your "Applications" folder. To do this click on the disk image to select it then press the Apple and C keys together to copy it. Now select your Applications folder and press the Apple and V keys together. This will paste a Blender folder containing all of the contents of the disk image into your applications folder. The installation is now complete, so you can eject the installer folder (by dragging it to the eject icon) and start using Blender.
To open Blender, navigate to your new Blender folder in your Applications folder and double click on the following icon in the Blender folder:

You should now see the Blender interface: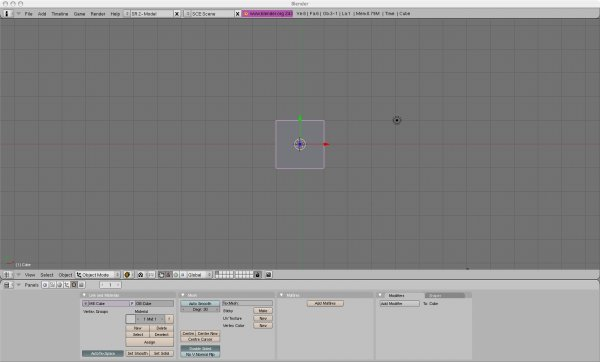 That's about it, you now have Blender up and running!