Join a Chat
You can join a Sugar Chat that has already been started.
Two or more XO computers from One Laptop Per Child can speak to each other directly without an Internet connection. This is a direct connection. You can also chat with people on the Internet who use Sugar. This section describes joining a chat between two or more XO computers from One Laptop Per Child.

First, look at the Neighborhood View to see if there is an existing Chat you want to join.
CHAT SAFELY: Only chat with someone you know. If a someone invites you to chat, don't chat with them unless you know them.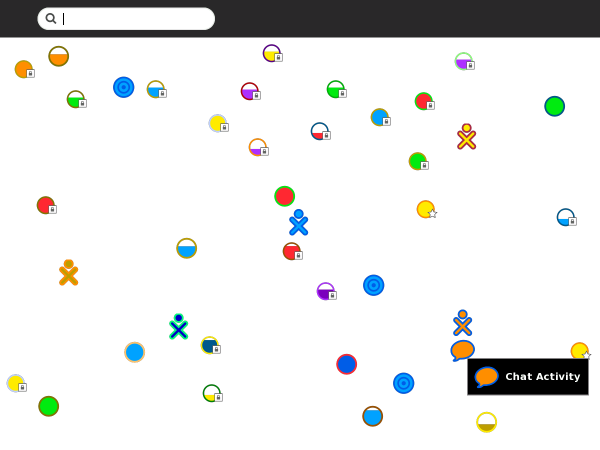 If you see a XO icon with a little speech bubble icon next to it, that person is in a shared Chat. Several people may be around the Chat icon, showing a group Chat.


Click the little speech icon
and select the Join option.
Then the Chat Activity starts, connected to the shared Chat. You see the other people in the Chat, on the Frame.

Chatting

Once you are in the Chat Activity, you can begin typing to send a message and chat with the other person. After you type a message you can press the enter key to send it.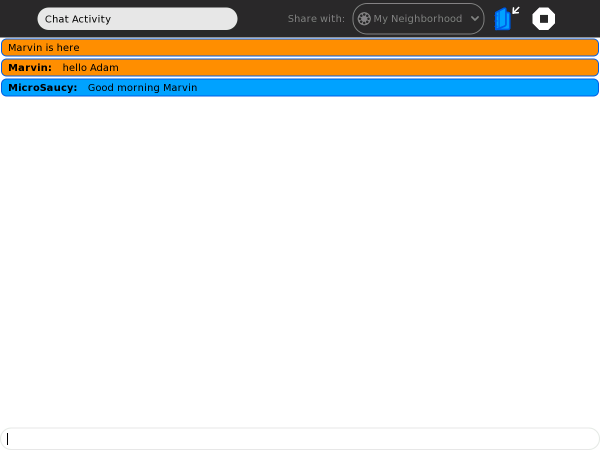 To enter messages type them in the box at the bottom of the Chat Activity. Always press enter at the end of the message. Once you press enter your message appears on your friend's computer.
Accept an invitation to chat
You may be invited to chat. An invitation appears as a little speech icon
in the upper-left of the screen in every view. (The invitation also appears on the Frame.) The colors of the icon match the colors of the friend who sent the invitation.


You accept the invitation by hovering over the icon and selecting Join. You decline the invitation by selecting Decline.