Playing Video
Software name : VLC
Software version : 1.0.3
VLC supports a wide range of video file formats including: MPEG, WMV, DIVX, H.264, and Real Video, making it one of the most versatile media players out there. VLC can also play network streams and most commercial DVDs with ease.
In this chapter, we'll focus on two common tasks: playing video files and playing DVDs.
Let's take a look at the interface in Windows 7: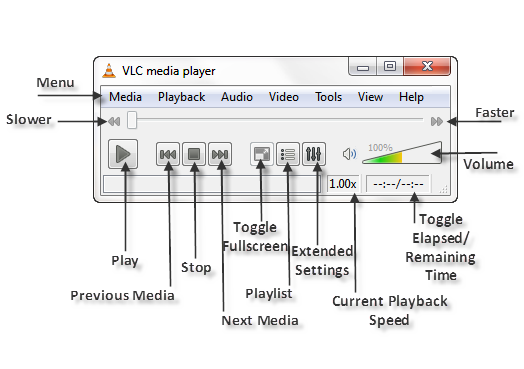 VLC features most standard playback options and more. For instance, you can slow or speed playback using the Slower and Faster buttons. The Toggle Fullscreen button allows you to switch back and forth between fullscreen and normal view modes. The Playlist button opens the Playlist menu which allows you to drag-and-drop video files into a playlist for continuous playing. The Extended Settings button opens a tab-based menu that allows you to adjust audio and video effects during playback. For instance, the brightness and contrast levels can be adjusted to suit your needs.
Playing video files
The easiest way to play (open) video files is the method of drag-and-drop directly into VLC.
In this example, we're opening a sample video file of 'Keyboard Cat' on the Windows 7 desktop. Both the video file and the icon to launch VLC are on the desktop. This particular video file is a .WMV file type, which is supported by VLC.
To drag-and-drop a video file into VLC:
1. Hover the mouse pointer over the video file.
2. Click and hold the left mouse button.
3. Still holding the left mouse button, move the pointer to the VLC icon and release the left mouse button.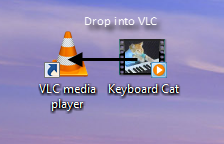 The video file begins playback.
Another method of opening a video file is through the menu.
To open a video file using the menu:
1. On the menu, click Media > Open File….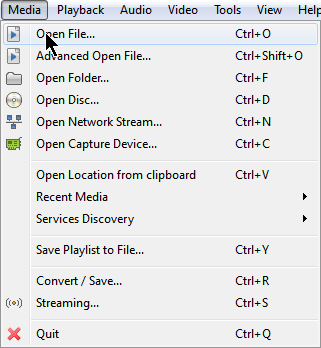 2. Browse to the directory of your desired video file.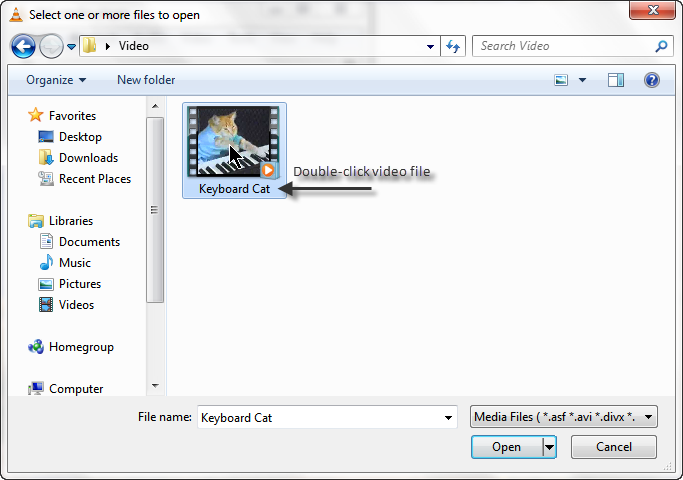 3. Double-click the video file.
The video file begins playback.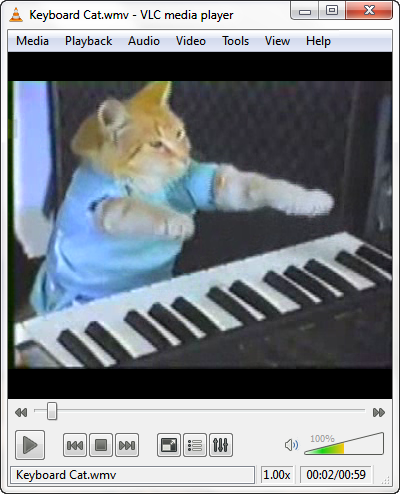 Playing a commercial DVD with VLC is nearly the same process as playing a video file. While drag-and-drop can be used, the fastest method is using the menu. Before we begin, make sure your computer can play DVDs, which requires a DVD-ROM drive installed on your computer.
To play a DVD:
1. With a DVD inserted into the DVD-ROM drive, click Media > Open Disc…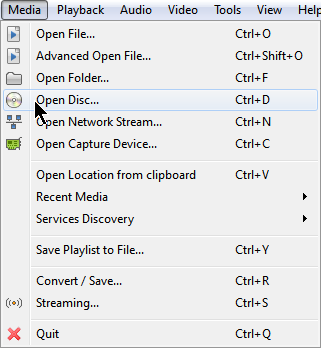 The Disc tab is now selected.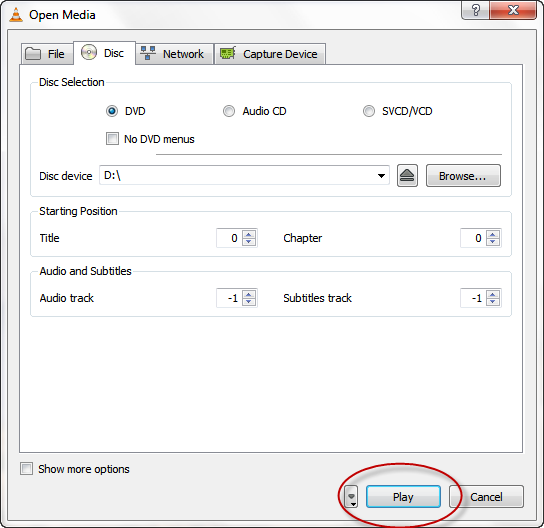 2. Make sure the Disc device box has the DVD-ROM drive selected. By default, VLC selects the most common location, but you may need to browse and find it.
3. Click the Play button.
The DVD opens and begins playback.

While in play mode, DVD menu items can be accessed with the pointer, but this ability varies with DVD.