Anatomy of the First Book Sprint
One programmer and six writers in a room
The first creation of this book featured 6 to 8 writers in one space working through a networked software (Booki) which was simultaneously being built. Hence the architecture for the collaboration and the content produced by it were being produced at the same time.
It is difficult to over-state how difficult this could potentially be for all involved. It would be like living in a house, trying to sleep, get the kids off to school, have quiet conversations with your partner while all the time there are builders moving around you putting up walls and nailing down the floorboards under your feet. Not easy for all parties.

Working on adding new features and debugging code live while the people wanting to use it and are in the same room using it, is a pretty extreme environment for a programmer to work in.
Thankfully, we survived this particular cross-discipline collaboration between programmer and writers because the attitudes of all those involved enabled this to be a relatively stress-free environment. The generosity of spirit exhibited by all collaborators meant that this situation was not only tolerable but acceptable and even mostly fun!
As a result we have not only a book, but a vastly improved alpha version of the Booki collaborative authoring platform. And more importantly; a method.
The Calendar
Day one consisted of presentations and discussions.
During this first day we relied heavily on traditional 'unconference' technologies—namely colored sticky notes. With reference to unconferences we always need to tip the hat to Allen Gunn and Aspiration for their inspirational execution of this format. We took many ideas from Aspiration's Unconferences during the process of this sprint and we also brought much of what had been learned from previous Book Sprints to the table.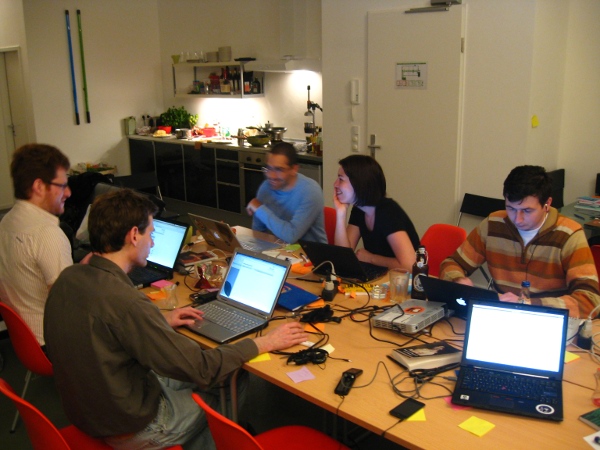 First, before the introductions, we each wrote as many notes as we could about what we thought this book was going to be about. The list consists of the following:
When Collaboration Breaks.
Collaboration (super) Models.
Plausible near and long term development of collaboration tech, methods, etc. Social impact of the same. How social impact can be made positive. Dangers to look out for.
Licenses cannot go two ways.
Incriminating Collaborations.
In the future much of what is valuable will be made by communities. What type of thing will they be? What rules will they have for participation? What can the social political consequences be?
Sharing vs Collaboration.
How to reconstruct and reassemble publishing?
Collaboration and its relationship to FLOSS and GIT communities.
What is collaboration? How does it differ from cooperation?
What is the role of ego in collaboration?
Attribution can kill collaboration as attribution = ownership.
Sublimation of authorship and ego.
Models of collaboration. Historical framework of collaboration. Influence of technology enabling collaboration.
Successful free culture economic models.
Then each presented who they were and their ideas and projects as they are related to free culture, free software, and collaboration. The process was open to discussion and everyone was encouraged to write as many points, questions, statements, on sticky notes and put them on the wall. During this first day we wrote about 100 sticky notes with short statements like:
"Art vs Collaboration"
"Free Culture does not require maintenance"
"Transparent premises"
"Autonomy: better term than free/open?"
"Centralized silos vs community"
"Free Culture posturing"
…and other cryptic references to the thoughts of the day. We stuck these notes on a wall and after all of the presentations (and dinner) we grouped them under titles that seemed to act as appropriate meta tags. We then drew from these groups the 6 major themes. We finished at midnight.
Day two—10.00 kick off and we simply each chose a sticky note from one of the major themes and started writing. It was important for us to just 'get in the flow' and hence we wrote for the rest of the day until dinner. Then we went to the Turkish markets for burek, coffee and fresh Pomegranates.
The rest of the evening we re-aligned the index, smoothed it out, and identified a more linear structure. We finished up at about 23.00.
Day three—At 10.00 we started with a brief recap of the new index structure and then we also welcomed two new collaborators in the real-space: Mirko Lindner and Michelle Thorne. Later in the day, when Booki had been debugged a lot by Aco, we welcomed our first remote collaborator, Sophie Kampfrath. Then we wrote, and wrote a bit more. At the end of the day we restructured the first two sections, did a word count (17,000 words) and made sushi.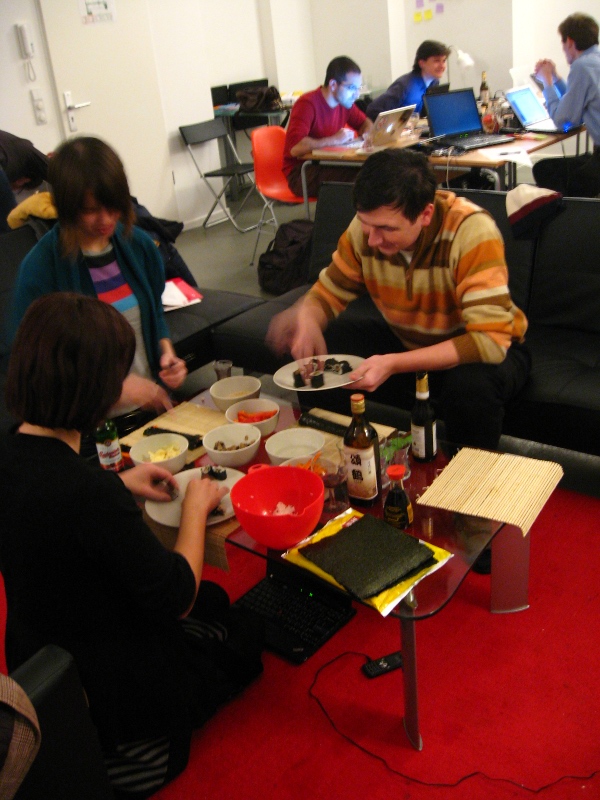 After sushi we argued about attribution and almost finished the first two sections. Closing time around midnight.
Day four—A late start (11.00) and we are also joined by Ela Kagel, one of the curators from Transmediale. Ela presented about herself and Transmediale and then we discussed possible ways Ela could contribute and we also discussed the larger structure of the book. Later Sophie joined us in real space to help edit and also Jon Cohrs came at dinner time to see how he could contribute. Word count at sleep time (22.00): 27,000.
Day five—The last day. We arrived at 10.00 and discussed the structure. Andrea Goetzke and Jon Cohrs joined us. We identified areas to be addressed, slightly altered the order of chapters, addressed the (now non-existent) processes section, and forged ahead. We finished 2200 on the button. Objavi, the publishing engine for Booki, generated a book-formatted PDF in 2 minutes. Done. Word count ~33,000.
Original Collaborators
The starting 7 included:
Mushon Zer-Aviv is a designer, an educator and a media activist from Tel-Aviv, based in NY. His work explores media in public space and the public space in media. In his creative research he focuses on the perception of territory and borders and the way they are shaped through politics, culture, networks and the World Wide Web. He is the co-founder of Shual.com—a foxy design studio; ShiftSpace.org—an open source layer above any website; YouAreNotHere.org—a dislocative tourism agency; Kriegspiel—a computer game based on Guy Debord's Game of War; and the Tel Aviv node of the Upgrade international network. Mushon is an honorary resident at Eyebeam—an art and technology center in New York. He teaches new media research at NYU and open source design at Parsons the New School of Design. He can be found at Mushon.com
Mike Linksvayer is Vice President at Creative Commons, where he started as CTO in 2003. Previously he co-founded Bitzi, an early open data/open content/mass collaboration service, and worked as a web developer and software engineer. In 1993 he published one of the first interviews with Linus Torvalds, creator of Linux. He is a co-founder and currently active in Autonomo.us, which investigates and works to further the role of free software, culture, and data in an era of software-as-a-service and cloud computing. His chapter on "Free Culture in Relation to Software Freedom" was published in FREE BEER, a book written by speakers at FSCONS 2008. Linksvayer holds a degree from the University of Illinois at Urbana-Champaign in economics, a field which continues to strongly inform his approach. He lives in Oakland, California.
Michael Mandiberg is known for selling all of his possessions online on Shop Mandiberg, making perfect copies of copies on AfterSherrieLevine.com, and creating Firefox plugins that highlight the real environmental costs of a global economy on TheRealCosts.com. His current projects include the co-authored groundbreaking Creative Commons licensed textbook "Digital Foundations: an Intro to Media Design" that teaches Bauhaus visual principles through design software; HowMuchItCosts.us, a car direction site that incorporates the financial and carbon cost of driving; and Bright Bike, a retro-reflective bicycle praised by treehugger.com as "obnoxiously bright." He is a Senior Fellow at Eyebeam, and an Assistant Professor at the College of Staten Island/CUNY. He lives in, and rides his bicycle around, Brooklyn. His work lives at Mandiberg.com.
Marta Peirano writes about culture, science and technology for the Spanish media, encompassing newspapers, online journals and printed magazines. She is a long term contributor and founder of the online media arts journal Elástico and is the author of "La Petite Claudine", a widely read blog in the Spanish language about art, literature, free culture, pornography (and everything in between). In 2003 and 2004 she directed the Copyfight Festivals in Spain (CCCB, Santa Mónica) with her collective Elástico, a symposium and exhibition that investigated alternative models of intellectual property. Marta has given numerous lectures and workshops on free culture, digital publishing tools and journalism at festivals and universities. She recently published "El Rival de Prometeo", a book about Automatas and the engineering of the Enlightenment. She currently lives in Berlin and is working on a second book.
Alan Toner was born in Dublin and studied law in Trinity College Dublin and NYU Law School, where he was later a fellow in the Information Law Institute and the Engelberg Center on Law and Innovation. His research is focused on the countervailing impact of peer processes and information enclosure on cultural production and social life. In 2003 he worked on the grassroots campaign 'We Seize!' challenging the UN World Summit on the Information Society; he has participated extensively in grassroots media and information freedom movements. Since 2006 he has also worked in documentary film, including co-writing and co-producing "Steal This Film 2" (2007). In 2008 he co-created the archival site http://footage.stealthisfilm.com/. Currently he's writing a book on the history of economic and technological control in the film industry. Sometimes he can be found near Alexanderplatz, and at http://knowfuture.wordpress.com/.
Aleksandar Erkalovic is renown internationally in the new media arts and activist circles for the software he has developed. He used to work in Multimedia institute in Croatia, where he was the lead developer of a popular NGO web publishing system (TamTam). Aleksander has a broad spectrum of programming experience having worked on many projects from multiplayer games, library software, financial applications, artistic projects, and web site analysis applications, to building systems for managing domain registration. Aleksander was for a long time the sole programmer for FLOSS Manuals and is now leading the development (together with Adam Hyde and Douglas Bagnall) of a new GPL-licensed type of collaborative authoring and publishing platform called 'Booki'. Aleksander's new media artistic collaborations have won many awards, as well as being extensively exhibited internationally. Aleksander also organises creative and educative workshops directed to young people, experts, and amateurs that are interested in the software he has developed and free software in general. He is currently also employed by Informix in Zagreb, Croatia.
Adam Hyde <adam[at]flossmanuals.net> was for many years a digital artist primarily exploring digital-analog hybrid broadcast systems. These projects included The Frequency Clock, Polar Radio, Radio-Astronomy, net.congestion, re:mote, Free Radio Linux, Wifio, Paper Cup Telephone Network, Mobicasting, Silent TV and others. Many of these projects have won awards and have been widely exhibited internationally. Since returning from a residency in Antartica in 2007 Adam founded FLOSS Manuals and has been focused on increasing the quantity and quality of free documentation about free software through FLOSS Manuals, exploring emerging methodologies for collaborative book production (Book Sprints), and developing Booki with Aleksander and Douglas. Adam has facilitated over 16 Book Sprints, is also the co-founder (with Eric Kluitenberg) of the forthcoming Electrosmog Festival for Sustainable Immobility and facilitator of the forthcoming Arctic Perspectives technology cahier.
The cover design is by Laleh Torabi. Laleh is a designer and illustrator based in Berlin and has been the designer for Transmediale for several years. Her website is <www.spookymountains.com>. Her latest book "Die Freiheit der Krokodile" (The Freedom of the Crocodiles) has just been released by Merve Verlag, Berlin.
Those that joined later include:
Ela Kagel—an independent cultural producer and curator in Berlin. She is curator of Public Art Lab, initiator of Upgrade! Berlin, co-initiator of Mobile Studios and program curator of transmediale10.
Michelle Thorne—International Project Manager at Creative Commons, coordinating over fifty jurisdictions worldwide to localize and promote the Creative Commons licensing suite worldwide. Michelle co-organizes the Berlin salon series OpenEverything Fokus and also the network and festival atoms&bits. She holds a B.A. in Critical Social Thought and German Studies from Mount Holyoke College and is based in Berlin, Germany.
Mirko Lindner—an Open Everything advocate, active in FLOSS, Free Culture as well as Copyleft Hardware. His involvements range from Creative Commons Sweden over FSCONS to paroli on the Neo Freerunner. His main project right now is Sharism at Work. His areas include communication, design, planning as well as small-scale development surrounding the Ben NanoNote and the company's infrastructure. Mirko is a founding member of Sharism at Work.
Sophie Kampfrath—a Berlin based student of German literature, linguistics and philosophy. Being interested in new ways of working evoked by web technologies, she joined the atoms&bits network. Atoms&bits is about the impact of virtual and net developments on, and interleaves with, the physical world. Another aspect of this is the work on and with the Hallenprojekt, a platform and network bringing together co-working spaces and people.
Jon Cohrs—a recording engineer and visual/sound artist who lives in Brooklyn, NY. Through residencies, installations, and performances at I-Park, Banff New Media Institute, Futuresonic, and Eyebeam, his work has focused on exploring technology and its connection with wilderness through his documentary "The Door to Red Hook: Backpacking through Brooklyn", his website ANewF*ckingWilderness.com, and the 2009 Futuresonic Art Award winner, the Urban Prospector. Most recently, he's been an artist in residence at the Eyebeam Atelier working on 'OMG I'm on .TV'. This is an analog Pirate TV station in New York City that fills the void left behind after the digital transition, addressing the evolution of media, fan based culture, copyrights, and discussions on bandwidth allocation. OMG TV was used as a reference in a Supreme Court amicus brief on creativity and copyright.
Andrea Goetzke—Berlin-based curator, consultant and organizer of events and projects, and part of newthinking communications. She has engaged in several projects in the area of open source approaches and digital culture, like the Openeverything event series or the all2gethernow camp, a participatory event on new strategies in music and culture.
Patrick Davison contributed the opening chapter remotely (from New York). Patrick is a digital artist living in Brooklyn, NY. As one half of group What We Know So Far he researches and presents on Internet memes, digital ephemera, modern information culture, community, love, and time travel. He works with Eyebeam Senior Fellow Michael Mandiberg to research, create, and document work, and collaborated with FLOSS Manuals during their participation in Wintercamp 2009.
Jonah Bossewitch contributed the Multiplicity and Social Coding Chapter via email. Jonah is a doctoral candidate in Communications at Columbia's School of Journalism. He also works full-time as a technical architect for Columbia's Center for New Media Teaching and Learning (CCNMTL). He is investigating the politics of memory, surveillance, and transparency and their intersection with corruption in the pharmaceutical industry. Jonah has over a decade of experience as a professional free software developer and a vocal advocate for free culture, mad pride, and social justice. He completed an MA in Communication and Education at Teachers College ('07) and graduated from Princeton University ('97) with a BA Cum Laude in Philosophy and certificates in Computer Science and Cognitive Studies. He blogs at alchemicalmusings.org.