Updating Chromium
Unlike Google Chrome, which has an automatic software update included, Chromium does not update itself or prompt the user to install an update. Since it is an ongoing open source project, keeping Chromium updated means downloading the hourly builds or snapshots from the Chromium snapshots page, where the latest updates for Chromium are available for download.
Go to http://build.chromium.org/f/chromium/snapshots/.

Click on the link beside the folder for your operating system (Linux, Mac, or Win).
Scroll down to the bottom of the index and click on Latest.
Note the number that appears. This is the latest version of Chromium. You should download this version.
Press the Back button to return to the index page, and click on the latest update number.
Click on the zip file for Mac OS, or the mini_installer.exe file for Windows, and save the file to your computer.
Install and open the latest Chromium update as you would for the first installation of the browser.
Updating Chromium in Ubuntu
In Ubuntu, Chromium (like other pieces of software that are installed on your computer) will update automatically when a new version is available. Updates are controlled by an application called Update Manager.
Depending on how you've configured Update Manager, it will check for updates at the following intervals:
Daily
Every two days
Weekly
Every two weeks
When Update Manager finds updated software, it will automatically launch. You can also launch Update Manager by selecting System > Administration > Update Manager. If you manually launch Update Manager, you'll need to click the Check button for Update Manager to check for new versions of software.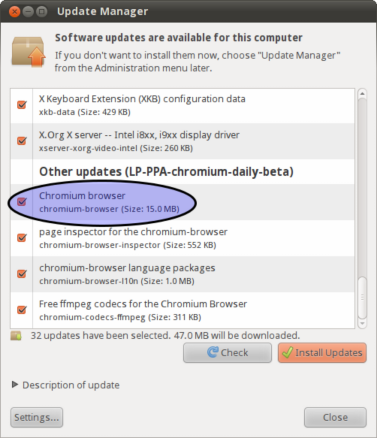 Click the Install Updates button and, when prompted, type the password that you use to log into Ubuntu and then click OK.