About This Manual
This manual was written during a 5 day Book Sprint in the Haus der Kulturen der Welt, Berlin (August 10-15, 2009).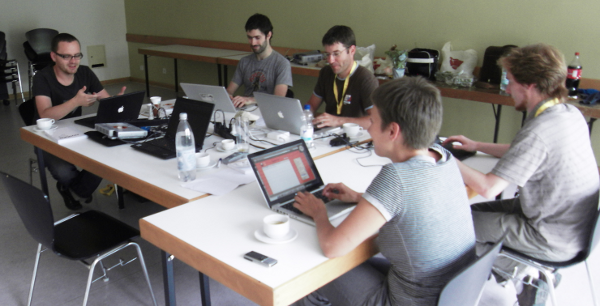 Homes Wilson
Susanne Lang
David Kühling
Jörn Seger
Plus many people helping online. Many thanks also to Leslie Hawthorn and Google for supporting this sprint, and to the Berlin Summercamp. This book is an ongoing effort...please feel free to improve it!

Register at FLOSS Manuals:
http://en.flossmanuals.net/register
2. Contribute!
Select the manual http://en.flossmanuals.net/bin/view/TheoraCookbook/WebHome and a chapter to work on.

If you need to ask us questions about how to contribute then join the chat room listed below and ask us! We look forward to your contribution!
For more information on using FLOSS Manuals you may also wish to read our manual:
http://en.flossmanuals.net/FLOSSManuals
3. Chat
It's a good idea to talk with us so we can help co-ordinate all contributions. We have a chat room embedded in the FLOSS Manuals website so you can use it in the browser.

If you know how to use IRC you can connect to the following:
server: irc.freenode.net
channel: #flossmanuals
4. Mailing List
For discussing all things about FLOSS Manuals join our mailing list:
http://lists.flossmanuals.net/listinfo.cgi/discuss-flossmanuals.net