Somebody Should Set The Title For This Chapter!
GNOME Subtitles
GNOME Subtitles is a subtitle editor for the GNOME desktop. It supports the most common text-based subtitle formats and allows for subtitle editing, translation and synchronization.

Gnome also features built-in video previewing

Uses GStreamer backend
Built-in subtitle display
Video length and current position display
Set subtitle timings based on the video position
Automatically select video when opening subtitles
Internationalization (i18n) support, currently for:
Arabic (ar)
Brazilian Portuguese (pt_BR)
British English (en_GB)
Catalan (ca)
Czech (cs)
Danish (da)
Dzongkha (dz)
Finnish (fi)
French (fr)
German (de)
Greek (el)
Hebrew (he)
Italian (it)
Norwegian bokmål (nb)
Occitan (oc)
Polish (pl)
Portuguese (pt)
Russian (ru)
Spanish (es)
Swedish (sv)
Subtitle Editor
Gaupol (http://home.gna.org/gaupol/)

Gaupol is a software for the Windows operating system that translates subtitles on video from one language to another. Gaupol works in the following subtitle format:
Fully supported formats: MicroDVD, MPL2, MPsub, SubRip, SubViewer 2.0 and TMPlayer
Partially supported formats: Sub Station Alpha and Advanced Sub Station Alpha
Created to translate previously-created subtitles, Gaupol is not the best tool for initial subtitle creation or editing the original subtitles in the video.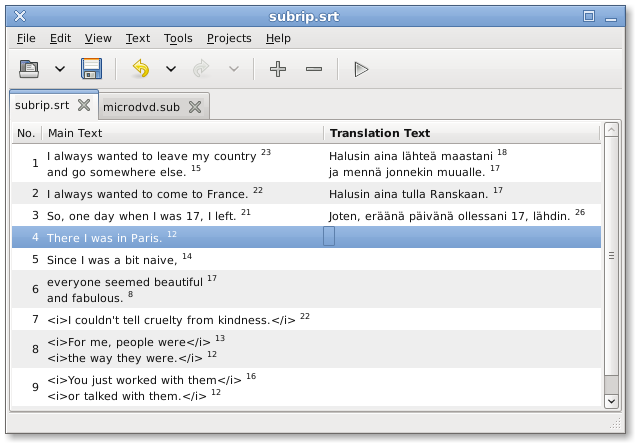 However, as a translation tool, Gaupol is effective and simple to use for text-based subtitles with many small but useful features like the ability to find and replace text, framerate conversion and previews of the edits in an external video player. Gaupol is designed so that users can easily translate a group of subtitles at the same time and assign each to a specific time in the video.
The editing tools include:
Unlimited undo and redo
Inserting, removing, splitting and merging subtitles
Find and replace, including regular expressions
Toggling of italics and dialog lines
Case changes
Spell-check
Common text error correction
Hearing impaired text removal
Breaking lines to a maximum length
Capitalizing lower case texts
Joining or splitting words based on spell-check suggestions
Adapting to different CD-splits of video
Position shift and transformation
Duration adjustment
Framerate conversion
Preview in an arbitrary external video player
Bookmarks