Installing Add-ons

To install Add-ons, select Tools > Add-ons to open the Add-ons window in a new tab. This page allows you to search for available Add-ons and explore the nature of Add-ons generally.
In the Get Add-ons panel of the Add-ons window, search for an add-on by typing the search term in the search box at the top right an pressing Enter. A list of add-ons matching your search term will display.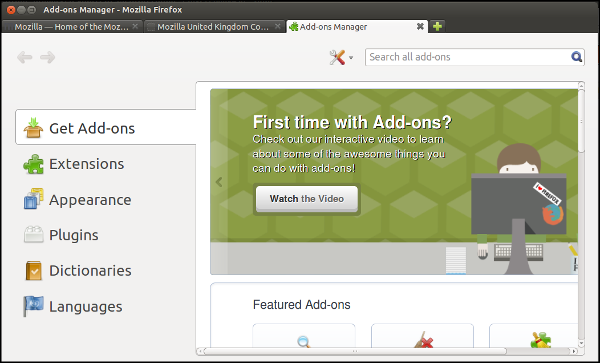 Follow the instructions on the page to install any desired add-on. You may be required to review and accept the End User License Agreement. To continue with the installation, click Accept and Install.
Firefox will then fetch the add-on, and display the Software Installation window. To begin the installation, click
.
After the installation is complete, you must restart Firefox to start using the new add-ons. To restart, click
that appears after installation is complete.
To manage or remove your Extensions, click on the Extensions button.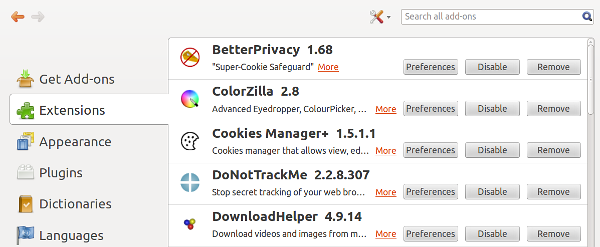 Disabling Add-ons
Be sure to disable or remove Add-ons that you are not using. Each Add-on is code that has been contributed by a different individual or team. The more you have installed the more likely they are to conflict with each other in some way.
If this does happen you may experience problems using Firefox, it may for example become very slow. You can test if your installed Add-ons are causing this problem by restarting Firefox with Add-ons disabled.
To do this select Help > Restart with Add-ons Disabled.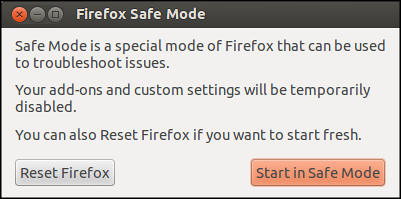 Then choose Start in Safe Mode. As you can see if this doesn't fix your problem you also have an option to Reset Firefox. This restores Firefox to its factory default state while saving your essential information.