Getting Support
The main goal of this manual is to help you use Thunderbird to manage your email. All the authors hope that we have succeeded in doing this.
However, we know that you might need more information about a topic, that there are questions we did not answer, and that what is true today may not be true tomorrow. To help you get the additional information you need, we want to tell you about some other Thunderbird support resources. These are all freely available on the web.
Support Resources
Some of the best Thunderbird support resources are:
The official Mozilla Thunderbird support forum
The official Mozilla Thunderbird knowledge base
mozillaZine
Superuser.com
Official Mozilla Thunderbird Support Forum
The Official Mozilla Thunderbird Support Forum is where users post queries about using, configuring or resolving problems with Thunderbird. It contains a searchable question and answer archive that you can use to research solutions.
Official Mozilla Thunderbird Knowledge Base
The Official Mozilla Thunderbird Knowledge Base is a searchable collection of articles about how to install, configure, use, and troubleshoot Thunderbird.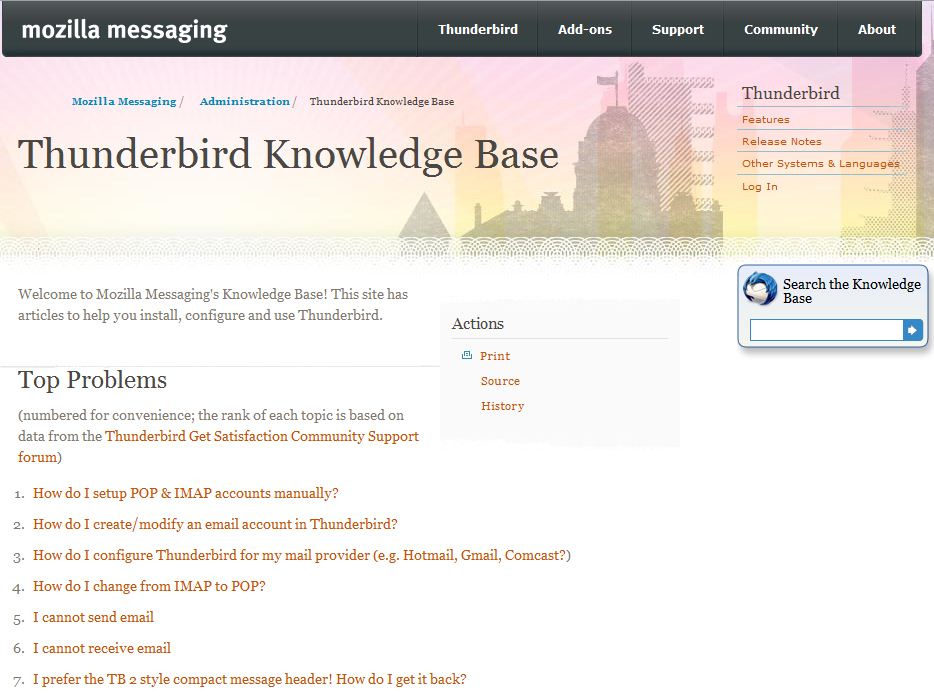 mozillaZine

MozillaZine is an independent, volunteer-run web site that contains information about Thunderbird and other Mozilla products like the Firefox web browser. To find answers and solutions, you can search the mozillaZine knowledge base at http://kb.mozillazine.org and the mozillaZine support forum at http://forums.mozillazine.org.
Superuser.com

Superuser.com is a computer question and answer site that has information about many computer products, including Thunderbird. You can see what people are asking about Thunderbird at http://superuser.com/questions/tagged/thunderbird.
A few notes about support
Volunteers provide much of the Thunderbird support. Most volunteers do what they do because they want to help others become better computer users.

As with any volunteer organization, someone may not be available to immediately help you. You may have to wait a bit to have someone answer your question.
If you answer your own question before someone else does, post the answer to the forum. Your answer may help someone else with the same question, and posting it will also free up support resources for another question.

Be polite and say thanks to whoever helps you. Few things make a support volunteer's day more than a thank you from a continent away.

Getting Help from the Support Forums

An effective way to use the Thunderbird support forums is to search first and ask questions later.

Search the support forum for an answer to your question. Someone else may have already asked the same or a similar question and has had an answer posted to the forum.
If you cannot find an answer in the forum, then go ahead and post the question yourself. You will get answers from the Thunderbird support team and also from the Thunderbird user community.
Posting a Help Request
The general rule for help requests is that you should provide as much information as possible about your problem. This will help the support person recreate your problem and come up with a solution for you.
Here's some useful information to include in a request for help:

Your operating system (for example, Windows 7, Windows XP, Ubuntu 10.04, Mac OS X 10.6.4 Snow Leopard).
The version of Thunderbird that you're using (for example, Thunderbird 3.1.6).
A list of Thunderbird installed add-ons.
A description of what you were doing when the problem occurred.
A description of what you expected to happen.
A description of what actually happened.

Any Thunderbird or system error messages.

Here are a few pieces of information that you should never provide:
Your email or system passwords.

Anything personal or sensitive.
Credit card number or bank information for payment.
If a someone asks you for any of these things, stop what you're doing immediately and go somewhere else.