"If it can work here... It can work anywhere..."
In war ravaged Afghanistan during the rebuilding from multiple partner organizations the challenge was not just implementing an XO program of 11,000 [*] XOs across Afghanistan, but communication the tips and tricks to get it working, localizing for two more languages, Activity and content development, adding the Koran, starting game development, and teacher culture change on a large scale.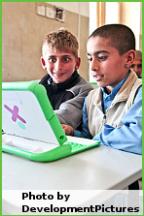 Since the fall of the Taleban 8 years ago, millions of children have gone back to school. Rote learning is the norm and many in the education system have little faith in teachers. Access to resources beyond the standard text books is unusual. Even those teachers who wanted to encourage their students to look further were often stumped for where to look.
The key is to find those 2 or 3 teachers in the school that really identify with it. Then train them / motivate them further to be champions within the school.
Before deployment doubts were naturally cast as to whether or not 60+ year old teachers from a traditional conservative part of the country would be able to adapt.
The first signs were mixed...
Yet there were teachers there who were clearly passionate about the opportunity that the XO provided to improve the education for the children. Could it be that by giving these teachers additional training they could help the others along?
Less than a month later the answer came back; YES! All the teachers of grade 4,5,6 in Istiqlal high school in Jalalabad used the XO as a tool in their day to day classes. Children were naturally enthusiastic and from day one started exploring.
On the basis of what we learned in Jalalabad more than 3,000 XO laptops have been successfully deployed across Afghanistan in Kabul, Jalalabad and Herat. Parents and teachers have become enthusiastic as well and family health information / opportunities to increase family income are also being made available via the XO Laptops. Even the troubled Zabul province through co-operation with the Provincial Reconstruction Team may soon receive XO laptops.
To support the school a little more and build an ecosystem we started to hire part time computer science interns from the university to visit the school more regularly than we could to support students and teachers.
"I often want to learn something at home but at home there's no books and no teacher. But this [XO] itself is like a teacher..."
4th Grade school girl, Sayed Jamaludin School, Kabul
A comprehensive monitoring effort is underway to measure improvements in educational accomplishment, thinking skills, health and economic status of the family against baseline measurements taken before deployment.
The XO can be a catalyst to radically improve education and addressing the wider environment around the children in which that learning ultimately takes place.
Mike Dawson and http://olpc.af were the sources for this document.
* 11,000 XOs from http://wiki.laptop.org/go/Deployments, though implementations of 396 in first stage, 2,000 in second phase, so 11,000 is probably a goal number.