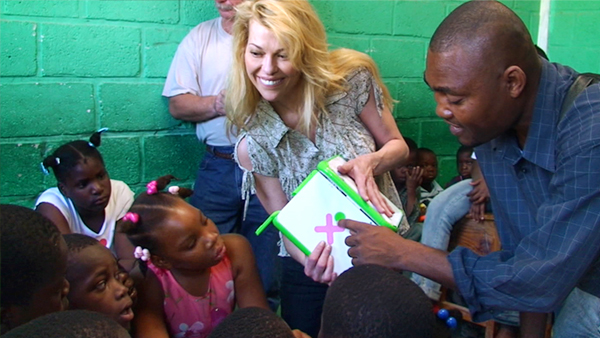 Making Waves in the Caribbean
(by William Stelzer)
There is one thing one learns very quickly in Haiti and that is not to take anything for granted. And to treasure every success, no matter how simple it may seem. So as we stood by for the first Annual Waveplace Awards webcast at a small hotel in Port au Prince, there was something wonderful about just watching the kids enjoy free time their XO laptops. Some took pictures of each other, while others created music. A few kids were even off and running with Etoys. Nobody seemed to mind the delays caused by the technical problems of connecting four countries simultaneously.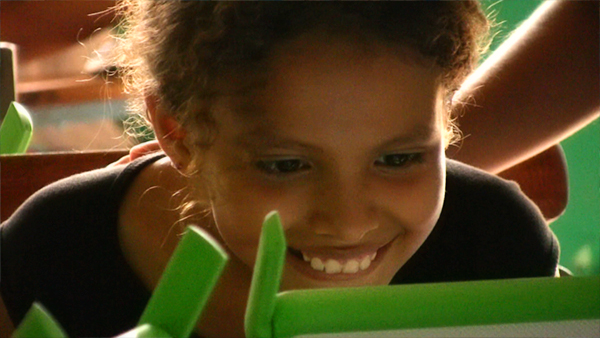 In its own small way, the past year for the Waveplace Foundation has been an epic journey. As amazing a machine as the OLPC XO is, getting the maximum educational value out of it was in many ways an unknown. Although it would have been easy enough to simply teach children how to type, take pictures, and look up information online, Waveplace had in mind a much more difficult and transformative goal. And that was to find the best ways to teach children constructionist learning, to discover for themselves how to use computers to jump start their thinking, inspire their imagination, solve sophisticated problems and harness the tools needed to accomplish their dreams.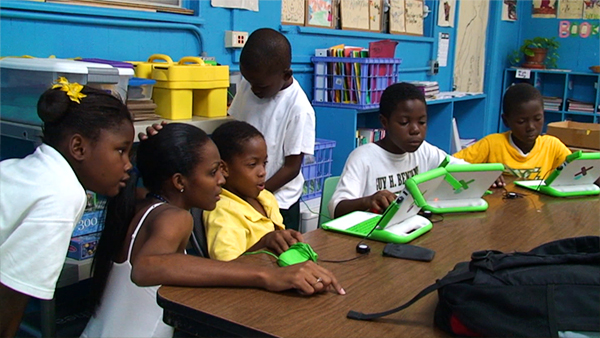 The kids at Guy Benjamin School, in St. John, U.S. Virgin Islands became the first to take on the challenge. At this early stage, the best description would be a roller coaster ride, as everything was new and untested, and the pilot quickly became an adventure in problem solving. But for the kids determined to plow through, the results were groundbreaking, and through Etoys they became among the very first computer programmers and digital storytellers at the elementary school level in the Caribbean. Even more importantly, the lessons Waveplace learned there would greatly improve the pilots to come.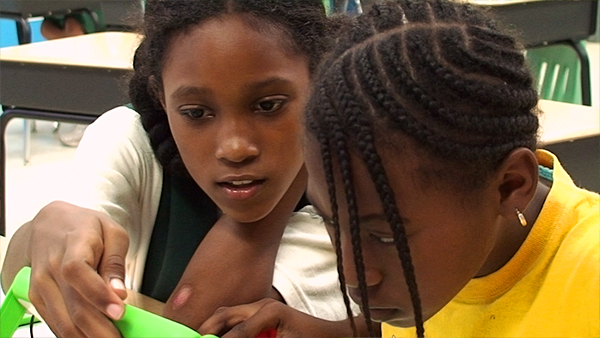 Midway through the St. John pilot, Waveplace also began a pilot in Port au Prince, Haiti, this time in partnership with the Mercy and Sharing Foundation. Working in Haiti is like living in novel. Filled with larger than life characters and obstacles that seem at times impossible. Food riots, hurricanes, floods and the ever present danger of corruption in a devolving country. What is beyond question though is the desire and determination of the kids. For most of them it was the first time they had ever even touched a computer. It was both humbling and inspiring to watch them search the keyboards for the letters that made up their names. And then to see them, only a short while later, create digital artwork and animations on the XO laptops as if they'd been doing it all their lives.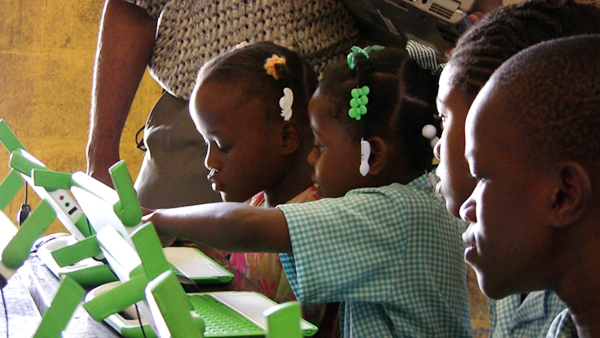 One of the stars of the Haiti pilot was a young orphan named Jessie. Though she walked with prostheses, her spirit and drive were absolutely without limit. I spoke with Haiti's then Minister of Handicap Affairs and he told me that because of Haiti's unforgiving living conditions, one in eight Haitians were disabled. As I listened, I couldn't help but be struck by the critical role children's laptops played in unlocking the potential of kids like Jessie all over the world.

In the Immokalee, Florida pilot it all finally came together, everything just clicked into place. The kids were fantastic and we also were lucky to have highly educated, dedicated teachers to spark within the kids the almost contradictory conditions needed to make this strange beast called constructionist learning come to life. Then as a bonus, we even had a chance for our work to be documented and broadcast by National Public Radio.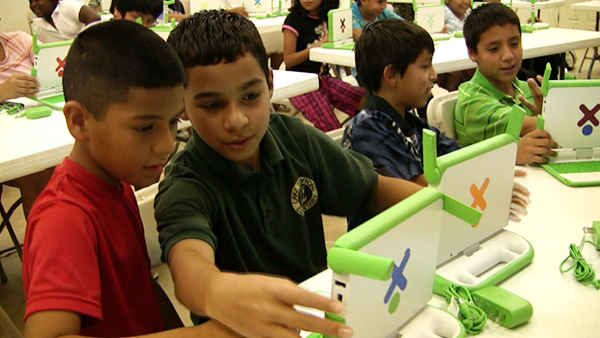 One of the teachers there, Christa Crehan, eloquently wrote this about Immokalee's two Waveplace Awards winners. "Maria and Eric began the program with trepidation. What they created is from their heart. We allowed each child to take his or her gift and focus on that gift to create a story all their own. Maria's focus was her incredible eye for detail in her beautiful artwork, while Eric chose to focus on learning complicated programming skills. There is something for every child in Etoys no matter what their contribution to the world may be. We will help them find their voice."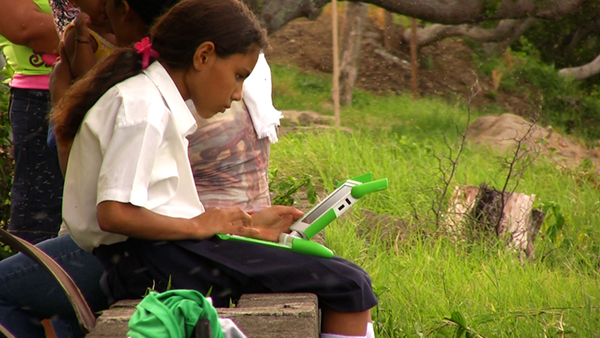 The best word to describe Nicaragua is simply magic. There we partnered with Campo Alegria for a pilot in the small village of Buenos Aires. We were back in a difficult and rugged environment, but also a beautiful one. It was here that the true transformative potential of the XO and Etoys most dramatically revealed itself. And not just for the students, but for the teachers also. As I watched the kids, who almost had to be torn away from working with their laptops, I felt as if I was watching history in the making, and that dreams of the visionaries who began this project were finally coming to life before my eyes.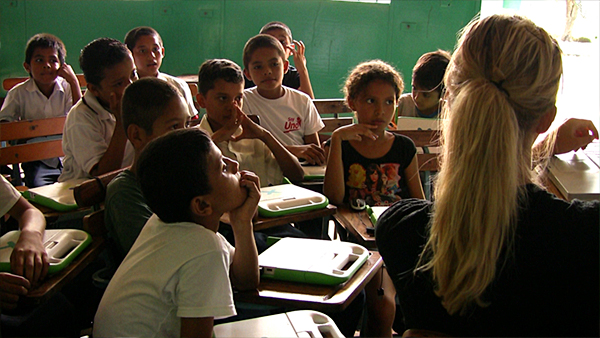 It was also from Nicaragua that we first met Wendy, who was to later win the highest prize in the First Annual Waveplace Awards, the Seymour Award.
Mary Scotti, the Waveplace team member who stayed behind to document the pilot through its duration, interviewed this slight, lovely and introspective girl as she described her world:
"My house has three people, my mother Joanne, my father Ricardo and me. I have an older sister who is fourteen years. She lives with my grandparents on the Pacific side of Nicaragua in the district of Tola. Our home is very far from the school. My mother will not let me come all this way alone. She rides with me on her bicycle until we reach town where it is safe. She meets me on my way home after class.

In my spare time I like to go to the lake and bathe. I also like to draw in my notebook. I don't live in a neighborhood. There are not many houses by me so I learn to play alone. I love to read and have a few books of biblical stories. I help my mother cleaning the house and doing the dishes.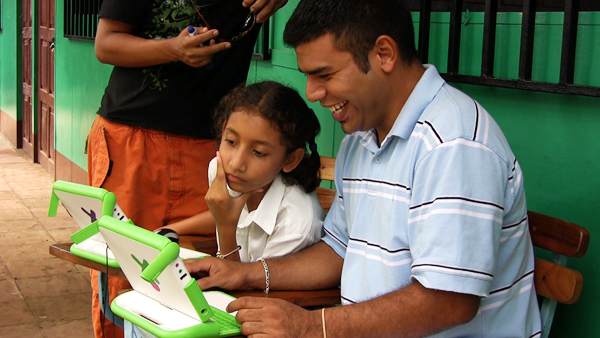 I would like to study English and become a translator. I want to go to the University. I would like to live in San Juan del Sol. It is very beautiful there and has a beach.
I used to think that laptops were good but really I had no clue about them or how to use them. Now I especially like learning how to draw with them. I would like to keep making art. My parents are very happy for me and think this is very good.
I want to remember everything that happened here in this class. This is an unusual chance and time. I especially want to remember our trip to the camp. That will always be a special day for me."
Wendy's essence engages and inspires. She is imbued with natural talents. In the states we would declare her "gifted" no doubt. Thanks Wendy. May your light shine and your dreams be realized. Along with those of each and every child in the world.