Escuelab Mobilizes Country-wide Effort


Peru, by Kiko Mayorga
One of many encouraging signs about OLPC is a network of people within a developing country building the capacity to leverage technology to advance education. In Perú, Escuelab (Escuela [School] + Lab) is such a network: a dynamic, collaborative in-country partnership creating an environment ready to ensure that additional contributions make a powerful difference.

In Peru, as in many other developing countries, education is a great concern. Recent studies place Peru's educational system among the world's least effective. In response, many are promoting the use of technology in the classroom, piloting and implementing various solutions. Still, it's more than just implementation. Integrating the technology into our culture is a constant challenge. Culture is complex and has its own internal forces; if we are to succeed with this challenge we must follow its logic.
| | | |
| --- | --- | --- |
| | | The XO laptop inspires many to believe that the right technology can improve education worldwide. Those fortunate enough to have time, expertise, and funds to contribute to a program like OLPC naturally want to be confident that their contribution will matter. |
Escuelab's response to this challenge: an open space for disparate participants to share expertise related to technology and education. Escuelab promotes interdisciplinary and collaborative work while studying and prototyping a generic platform to facilitate physical and virtual encounters and experimental activities that will trigger projects and collaborations we don't need to predefine.
Escuelab brings together educators, managers, content experts, software developers, government employees, elected officials, engineering students, international visitors, and other enthusiasts. A network forms among participants collaborating to advance plans and projects. These "Electrolearning Saturdays" resemble a science fair, where everyone has the opportunity to meet people sharing the interest of contributing to a better educational system in Peru.
It's interesting to see how well the participants mesh. People begin learning and sharing almost immediately, as even people who have never met routinely find common ground. Escuelab creates a space for ideas, perspectives, and collaboration that people might not otherwise get the chance to share. Discussions succeed in such an environment that otherwise might have been lost across disparate places, times, and organizations.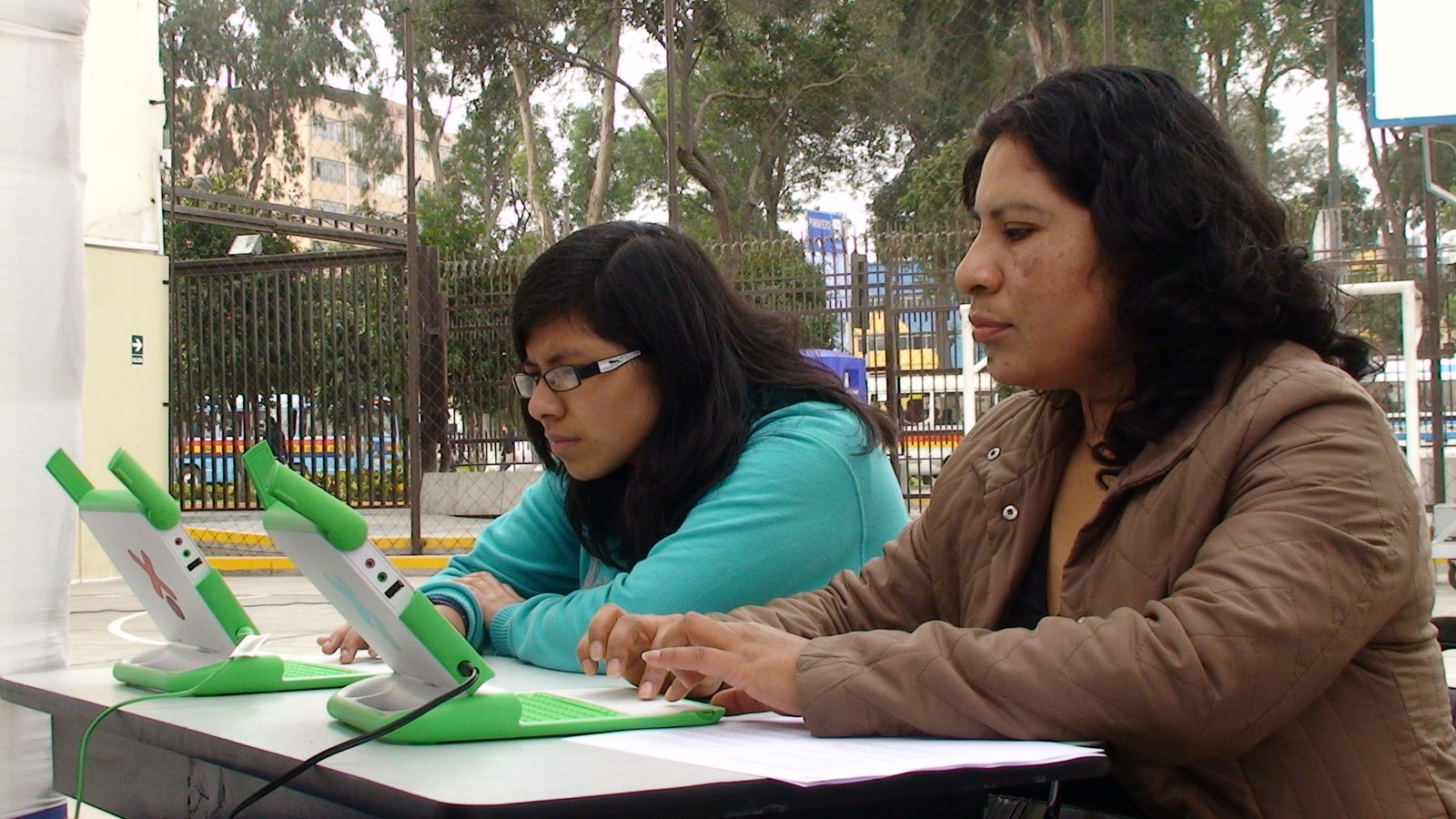 An important early product of this process, Escuelab collaborated with the Peruvian Ministry of Education to host four workshops:
Two three-day workshops involved a total of 74 UGEL directors. UGELs (the Peruvian Ministry of Education's acronym for Local Educational Management Units) coordinate across schools in a geographic region. One workshop focused on the Metropolitan Lima and Callao Region, and another on rural areas near Lima.
A three-day workshop for 44 educators working as trainers in the field for Regional Lima. The workshop was held at Escuelab and was coordinated by the Director for Primary Education of the Peruvian Ministry of Education.
A five-day workshop for a group of 24 American volunteers in Perú through a collaboration between OLPC Foundation and the Peruvian General Director for Educational Technologies.
| | | |
| --- | --- | --- |
| | | Escuelab is a community and volunteer-based effort that complements the official Ministry of Education of Peru XO deployment, the second in size in the world |
Within these workshops Escuelab has organized smaller groups focused on using technology to enhance interactions among distant participants. Escuelab's "experimental lab" atmosphere builds powerful, continuing relationships among participants, then provides an enabling environment for advancing the specific projects that result.

Next steps for Escuelab include building more cooperative networks not just around education, but around other culturally relevant areas like Architecture and Urbanism, Art and Culture Management, Civic Participation, Environment, and Cultural Diversity, thus acting as a collaboration Hub, facilitating spaces and infrastructure and a practical, hands-on approach to technology integration.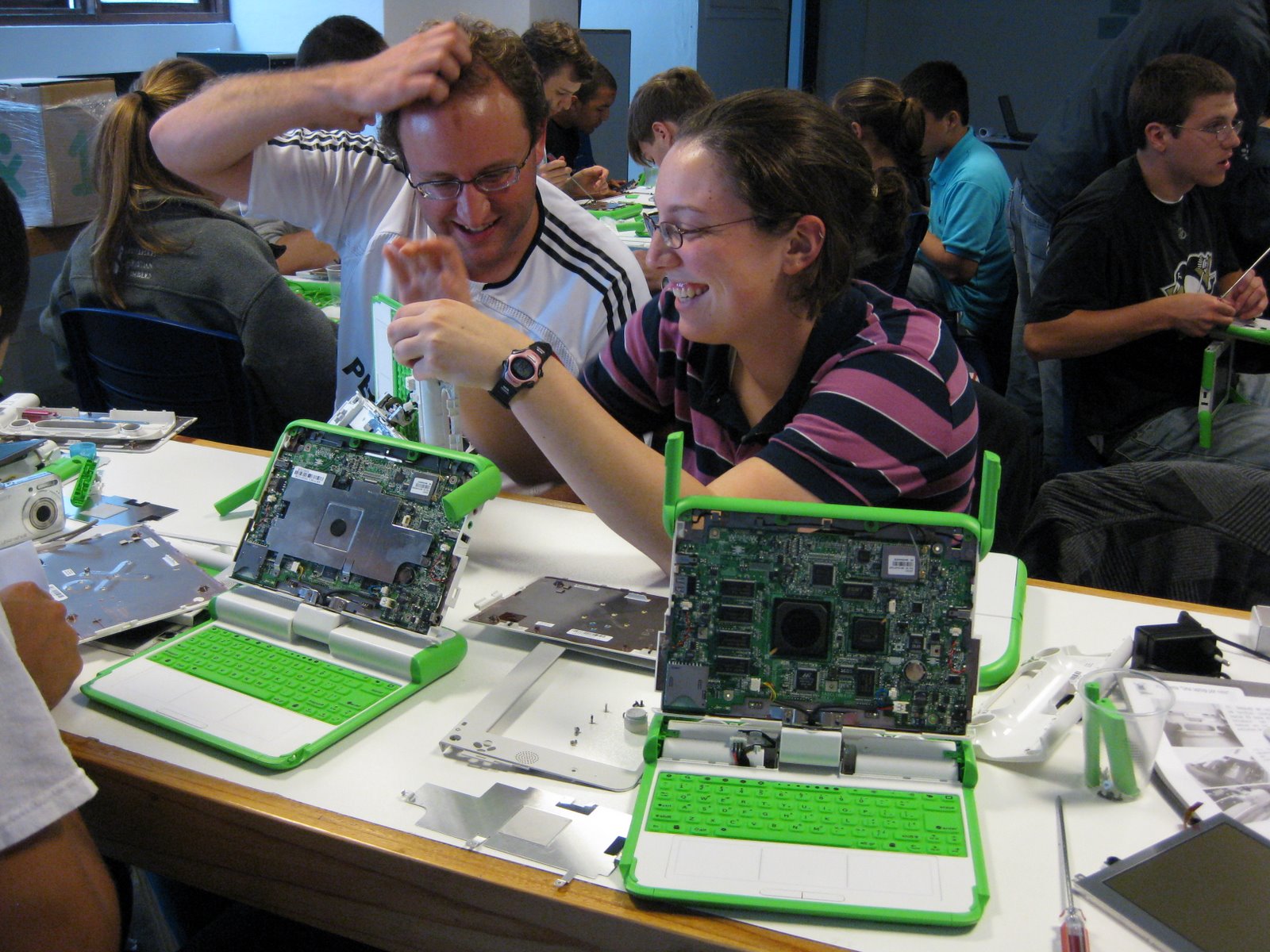 Part of the effort involved training a group of people to repair XOs when they stop working.
Just a few months along, Escuelab's multidisciplinary atmosphere has already created a rich social laboratory, where local, regional, national, and international researchers, creators, artists, and activists experiment in a supportive environment, acting as a way-finder through the possibilities and complexities of richer, more effective learning experiences.
Escuelab space/project is supported by:
Alta Tecnología Andina (a peruvian non proffit organization working in Culture and Technology for fourteen years now) (www.ata.org.pe)
the Prince Claus Foundation for Culture and Development (www.princeclausfund.nl/)
the Spanish Agency for International Cooperation to Development (AECID) (www.aecid.es/)