Teacher. . .Why doesn't this work?
Cincinnati
If it's broken we have to fix it!
The XO is easier to maintain than most other computers thanks to its design, but also because there is a living community of volunteers happy to share their knowledge of how to do it.

Is it not working because a student doesn't know how to use an activity? Maybe it's a bug in the software, or maybe it is a hardware failure. Teachers need to know how to distinguish between these possibilities, and then, what's to be done when the hardware may be the cause of the problem?

High school age students to the rescue
During his last two years in high school, Ian Daniher repaired over 200 XO's, from as far away as Nepal. What's remarkable when you talk to him is his passion for contributing to the XO community.
How did Ian come to be an expert at XO repair, manage a business, and be such a passionate advocate of OLPC volunteerism? He had some definite advantages. Since he was home schooled, he developed self direction and a motivation to follow his interests. His father had technical training, and encouraged his efforts to take things apart, figure out how they worked, especially in the area of computers.
After an accident which gave him personal experience with medical monitoring and analysis equipment, he was captivated by the idea that the XO and a small amount of additional external hardware, could make a real contribution in the underdeveloped parts of the world.
| | | |
| --- | --- | --- |
| | | Besides the wiki, the communication channels of the community can help you easily reach a volunteer for help, and soon you may also count yourself among those that help others! |
Pretty soon, his reputation as an XO hardware hacker traveled to the OLPC staff. The Give 1 Get 1 program was in need of repair help. Ian got his first shipment of 10 damaged and defective XOs. By reading the
repair sections of the public wiki at laptop.org
he got a jump start on teaching himself how to disassemble and troubleshoot failing devices.
He formed alliances with other repair centers, offering his spare parts in exchange for replacement parts which he needed for his customer's XOs. He used Gmail, and Google docs for online record keeping, billing, and payment collection.
As he starts his freshman year in college near Boston, and the OLPC headquarters, he wonders when he can find time to get a high definition video camera to put together a short documentary on how to disassemble and troubleshoot XOs. He'd like to help document the troubleshooting decision tree and triage tree which would help others replicate the success he has already achieved.

Teachers and administrators need to develop a repair strategy
The price of a XO does not include a surcharge for support and repair. The XO design is simple enough that local resources can be effective in repair, a small phillips screwdriver is enough for a surprising amount of issues. Repair centers, like the one Ian started, can be used when XOs stop working.

Based upon his experience, Ian says that XO repair at volunteer repair centers, like his, can have a turnover time of 2-4 weeks. (This is because the repair operations are mostly volunteer and part time jobs). If someone in a school or school district is able to learn simple repairs, the time for getting replacement parts can be as short as 3-4 days. And if a deployment is able to buy an extra XO or two, (thereby creating a set of spare parts stored locally) the time it takes to repair a broken XO can be reduced to an hour or two.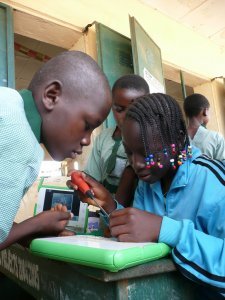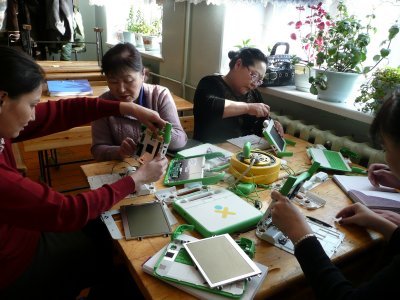 Photo descriptions and credits: