Kenya OLPCorps Story
Kibwezi Team

By David Norman and Greg Gates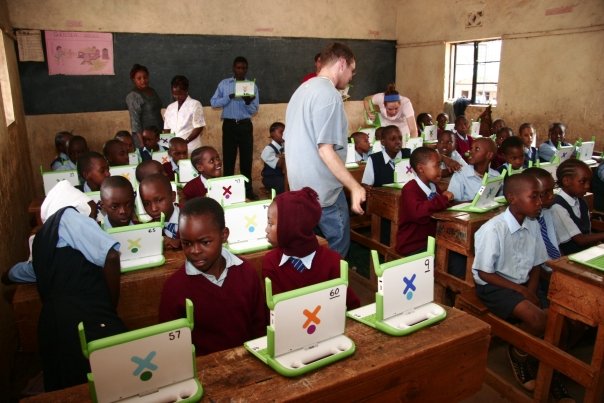 Lesson Learned
Teachers in the United States and other countries should not be intimidated by XO laptops and the challenge to maintain a standardised curriculum. Westerns should respect the local teaching styles, adaptation to computer learning comes about slowly, and with great results.

In Kenya, teaching is literally "rote" or wrote, meaning lessons are written on the black board by the teacher. Students copy the lessons into their notebooks and memorize the facts and statements. These are the educational techniques used in the Imani Primary School. Student notebooks are turned into the teachers for grading and then redistributed. If a teacher wants to add a lesson plan to the student notebooks, he/she will simply go through every notebook and copy the lesson into it by hand. Kenya is a very hierarchical society, and the students generally show great respect for their teachers. Each student within a classroom is ranked relative to his/her peers based on previous test scores. This "class rank" is posted in the front of the room for all to see. A student's success in the Kenyan education system is based on the national exams given to all students in standard (or grade) eight. The ranking of these exams and the results of the preparatory test are very important. In addition to the educational hierarchy within the classroom, teachers are equipped with switches that they use to hit students who are out of line. This generally increases the teacher's control of the classroom and further establishes rank among the students.

Upon first entering this environment, my two colleagues and I were immediately perplexed. "Wow, how are we supposed to foster free-thinking and creative learning in this environment?" The answer was to adapt to the African culture. We realized that it was necessary to slow down and let the African teachers and students slowly soak-in the technology until they took ownership.

An Early Introduction to XO
We first visited Kibwezi in July 2008, one year before the larger deployment in 2009. A group of Americans from Burke Presbyterian Church brought six XO computers the the Imani Primary School in Kibwezi. We introduced the six teachers to the XO and then left them to experiment on their own for one year. When we returned in July 2009, the six teachers were proficient and self-taught. The school principal was so enthusiastic about receiving 100 new XO computers that she had set aside one hour periods for every class to utilize the XOs. The school had a population of close to 400, so instead of "one laptop per child," there was "one laptop per four children." Nonetheless, the growth from 6 to 100 computers was significant after only one year.

Expanding to New Audiences
There is a vocational polytechnic co-located on the grounds of the Africa Kibwezi Educational Center. We held activity nights for students between the ages of 18 and 25. The activity nights gave these young adults a chance to explore the XOs, giving them a chance to use computers for the first time in their lives. Sometimes, the students were not as literate as their younger counterparts, but that didn't seem to matter. Anonymous "Question and Answer" sessions via chat were very popular. Discussions commonly focused on social taboos in Africa and the difference between cultures, such as dating practices in the United States and the spread of HIV.

Maintaining a Connection (A Service Contract, Not a One-Time Sale)
One mad-dash deployment is not enough. It really takes multiple visits to "train the trainer". Our first trip in 2008 was an experiment. We only observed teacher reaction. It was during the second visit that we dealt with customs inspectors and logistics. the challenge during the second visit was not getting a school server to function appropriately. Therefore, we brought it home for servicing. Our group has committed to sending American visitors throughout the year to the Kibwezi school. Considerably, we will adapt to the 1.5 version of the XO computer and find a way to connect the school server to a future high-speed Internet service . Finding a way to make that happen is another endeavour. We are looking into finding a high speed service whether through satellite connectivity or in future fiber optic cable. We are preparing for the future before it is here. That is the way to succeed in partnership with both OLPC and the Imani School. David Norman has joined the OLPC Learning Club - DC to maintain an awareness of updates and changing technology. Having a support network among users is vital and should be emulated by the other OLPCorps deployment schools in Kenya.

The team from Burke Virginia included a mix of students from three East Coast Universities. Greg Gates from Virginia Tech, Krista Yancey from Bucknell, and Kate Tidaback the College of William and Mary. David Norman acted as an adult advisor who helped facilitate logistics.

Blog: http://olpckibwezi.blogspot.com/