Technical requirements
Freedom Fone was built as a DIY (do it yourself) tool which you should have up and running before you finish saying "Freedom Fone". There are a few technical requirements you have to satisfy before you start using Freedom Fone. The requirements stated below are only given as a guideline. You may see the need to increase your equipment specifications depending on the amount of calls you expect to average.
Evaluation equipment required
If you wish to evaluate Freedom Fone beyond experimenting with our online demo (http://demo.freedomfone.org), we have successfully installed on low end/low cost computers for non-critical demonstration and evaluation purposes.
An example minimum specification of a computer that is able to run this version of Freedom Fone:
Computer Model: Asus Eeepc 900HD
Processor: Intel Celeron M 900MHz
RAM: 1GB
Hard Drive: 10GB
Optical Drive: DVD Reader
Please note: if you wish to install Freedom Fone to test you should do so on a machine which contains no important data as the installer will wipe your hard disk and install both the Ubuntu Operating system and Freedom Fone. As an alternative, you can choose to install Freedom Fone into another partition on your computer's hard drive. Freedom Fone's installer DVD will give you an opportunity to choose between overwriting the entire hard drive and installing alongside your current system.
Recommended equipment required
When it comes to implementing your Freedom Fone service in a live environment, it is highly recommended that you use a more powerful system. The following is a recommended standard set up:
Processor: Dual Core Processor (Intel or AMD) 2.0GHz+
Sound: Onboard soundcard
RAM: 2GB
Hard Drive: 80GB
Optical Drive: DVD Reader
GSM device: 2N OfficeRoute (takes 4 SIM cards) or Eurodesign MobiGater (takes 1 SIM card)
Signal: Good GSM signal coverage
Power: Reliable backup power
See the Equipment chapter for details of suppliers of OfficeRoute and MobiGater devices.
Note: Freedom Fone does not run on Macintosh hardware.
The schematic diagrams below show the different configurations you can have with equipment listed above.
The diagram above shows how you would connect a computer running Freedom Fone to an OfficeRoute. Note that you can also connect the OfficeRoute directly to your Freedom Fone computer using a crossover cable.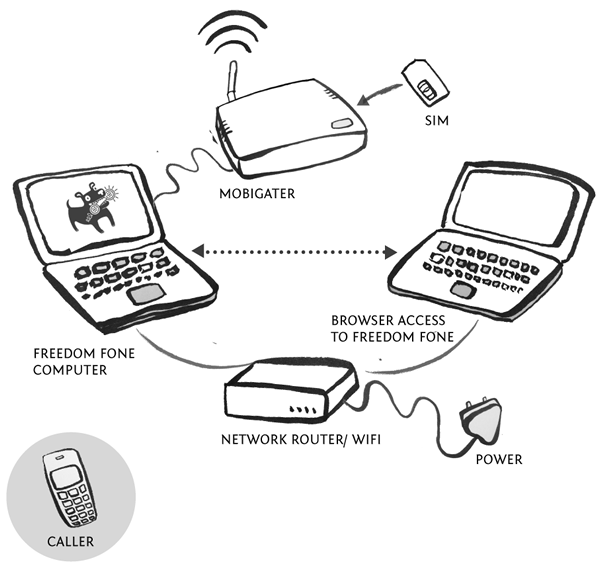 The diagram above shows how to connect to the MobiGater.