SabzProxy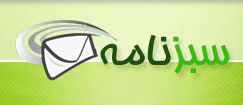 SabzProxy ("green proxy" in Persian) is a free distributed Web proxy proposed by the Sabznameh.com team. It is based on the legacy code of PHProxy (which has not being maintained since 2007). For additional detail about the Web proxies concept, please refer to the previous chapter.
The main improvement in SabzProxy, compared to PHProxy, is URL encoding. This makes SabzProxy harder to detect (PHProxy has a predictive footprint that means it is now blocked in several countries, including Iran). Only deep-packet inspection would allow SabzProxy servers to be detected and blocked.
SabzProxy is localized in Persian but is fully functional in any language. Many people in various countries have used it to set up their own public Web proxy.
General information
How do I access SabzProxy?
SabzProxy is a distributed Web proxy. This means that there are neither central SabzProxy instances, nor a commercial entity designed to create and diffuse them. Rather, it relies on its community and users to create their own instances, and to share these to their network. You can access instances through various forums, or networks, and when you have access you are welcome to share it with your friends.
One dedicated instance is run by the Sesawe circumvention support forum, and it is available at http://kahkeshan-e-sabz.info/home (you can log in with the username flossmanuals, and password flossmanuals).
If you own a Web hosting space and are interested in creating and sharing your SabzProxy instance with your friends and family, please refer to the
Installing SabzProxy
chapter in the
Helping Others
section of this book.
How does it work?
Here's an example that illustrates how SabzProxy works.
Enter the address of the SabzProxy instance you are using in your browser.
In the Web Address box on the SabzProxy page, enter the address of the censored Web site you want to visit. For example, http://www.bbc.co.uk/persian. You can keep the default options.
Click Go or Enter.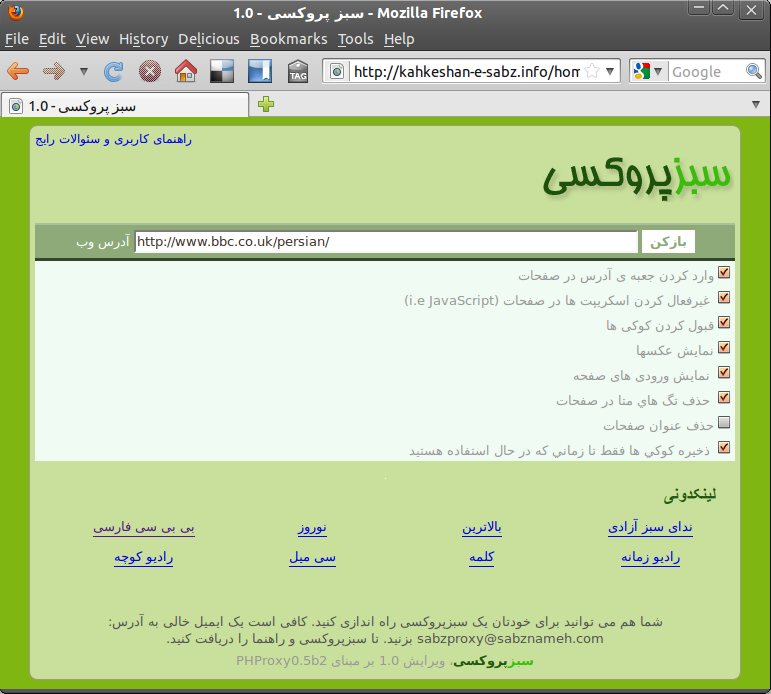 The Web site is displayed in the browser window.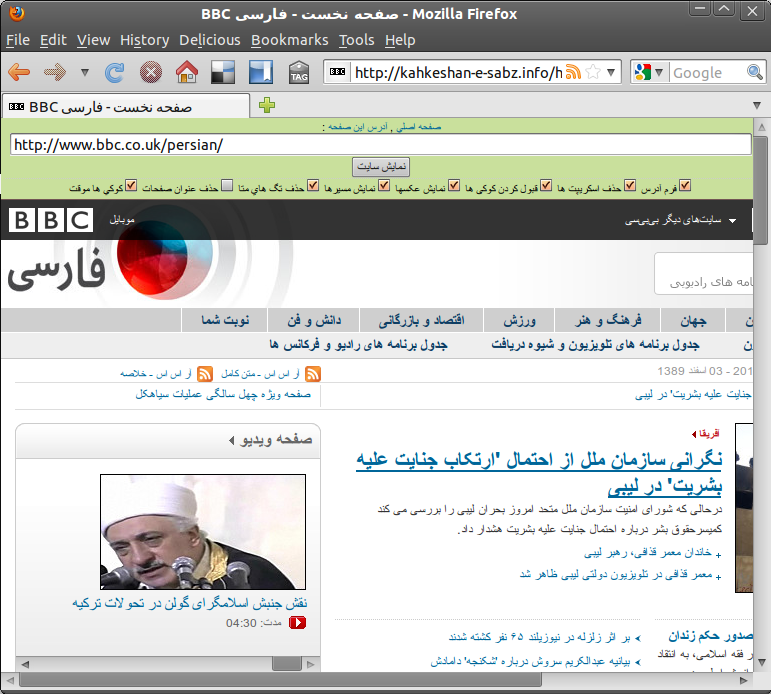 You can see the SabzProxy green bar within the browser window, and the BBC Farsi Web site below the bar.
To continue browsing, you can either:
Click any link from the current page. The Web proxy will automatically retrieve linked pages.
Enter a new URL in the Address box at the top of the page.
Advanced options
Usually, you can keep the default options to browse. However you can choose between several advanced options:
Include mini URL-form on every page / فرم آدرس
Check this option if you want to have a form on the proxified Web sites so that you can enter new URLs without going back to the start page of SabzProxy. You may want to deselect this option if you have a small screen, so you have more space for the target Web page.
Remove client-side scripting (i.e., JavaScript) / حذف اسكريپت ها
Check this option if you want to remove dynamic technology scripting from Web pages. Sometimes JavaScript can cause unwanted issues, as it is also used to display online ads or even to track your identity. Browsing mobile/light versions of complex Web sites (like Web mail services, or social networking platforms) is also an alternative to avoid Javascript issues while using SabzProxy.
Allow cookies to be stored / قبول کردن کوکی ها
Cookies are small pieces of text files which are often automatically stored by your Web browser. They are required for Web sites which need authentication but can also be used to track your identity. With this option turned on, every cookie is stored for a long time. If you want to allow cookies for this session only, deselect this option and select "Store cookies for this session only" (see below).
Show images on browsed pages / نمایش عکسها
If you are on a slow Internet connection, you may want deselect this option so the pages will be lighter, hence faster to load.

Show actual referring Web site / نمايش مسيرها
By default, your browser sends every Web site the URL you are coming from, where you have clicked on a link. These URLs are stored in the Web site log files and are analysed automatically. For increased privacy, you can deselect this option.

Strip meta information tags from pages / حذف تگ هاي متا
Meta tags are additional information stored in many Web sites to be used automatically by computer programs. Such information may include the name of the author, description of the site content or keywords for search engines. Filtering techniques could be run on these tags. You may leave this option checked to avoid presenting this information to keyword filters.
Strip page title / حذف عنوان صفحات
With this option turned on, SabzProxy removes the page title of the Web site, which you normally see in the title bar on top of your Web browser. This can be useful, for example to hide the name of the Web site you are visiting if you don't want surrounding people to see this when you minimize your browser.
Store cookies for this session only / كوكي ها موقت
Similar to the "Allow cookies to be stored" option; with this option turned on, cookies are only stored until you close your SabzProxy session by exiting your Web browser.