UltraSurf
UltraSurf, from developer UltraReach Internet Corp, is a proxy tool designed to help Chinese Internet users to get around their censorship. It may work for users in other countries as well.
General Information
How to get UltraSurf
You can download the free software (for Windows only), at http://www.ultrareach.com or http://www.ultrareach.net/ or http://www.wujie.net (the latter page is in Chinese, but the download is still easy to find and in English).
Installing and using UltraSurf
Once you have downloaded the file, named something like "u1006.zip" (depending on the version number), extract it by right-clicking the file and selecting "Extract All". Double-click the new "u1006" icon to start the application.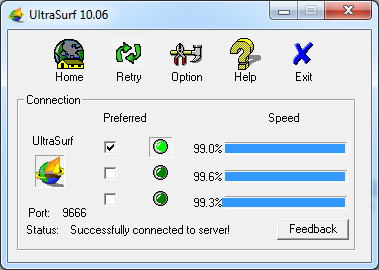 UltraSurf will automatically open Internet Explorer and display the UltraSurf search page http://www.ultrareach.com/search.htm. You can now start browsing using the instance of Internet Explorer that UltraSurf has launched.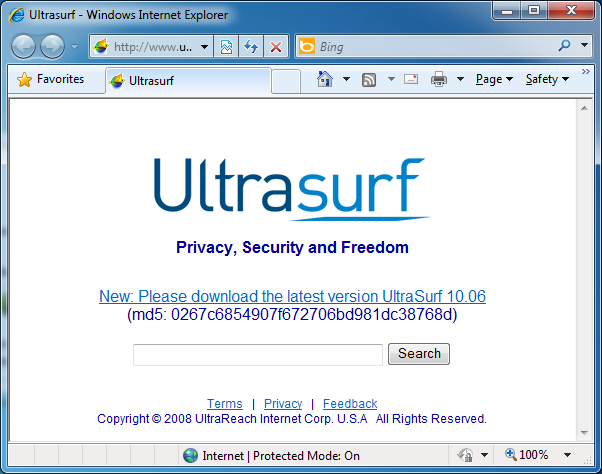 If you want to use another application with UltraSurf (for example the Firefox Web browser or the Pidgin instant messaging client), you need to configure them to use the UltraSurf client as a proxy server: the IP is 127.0.0.1 (your PC, also known as "localhost") and the port is 9666.
You can open the UltraSurf User Guide by clicking Help in the UltraSurf main window.
Info on Chinese UltraSurf (wujie): http://www.internetfreedom.org/UltraSurf
Chinese user guide: http://www.wujie.net/userguide.htm