Freegate
Freegate is a proxy tool for Windows users that was initially developed by DIT-INC to bypass Internet censorship in China and Iran.
General Information
How to get Freegate
You can download the software for free at http://www.softpedia.com/get/Network-Tools/Misc-Networking-Tools/Freegate.shtml.
You will get a file with the extension .zip, which you have to extract first. Right-click on the downloaded file and select "Extract All", then click on the button "Extract". The resulting file is about 1.5 MB. The name of the executable file may look like a short series of letters and numbers (e.g. "fg707p.exe").
Installation
When you run the application for the first time, you may see a Security Warning. You can accept this Security Warning by unchecking the box "Always ask before opening this file" and clicking Run.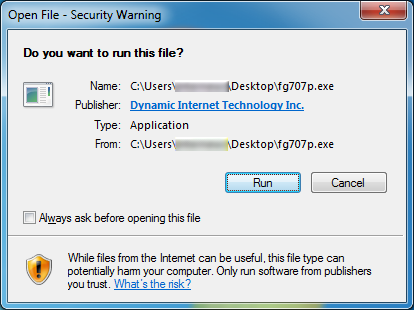 Running Freegate
Now the application should start and connect automatically to a server.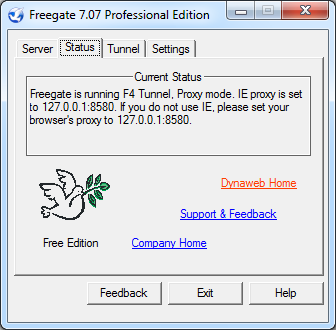 When the secure tunnel has started successfully, you will see the Freegate status Window and a new instance of the Internet Explorer will open automatically with the URL "http://dongtaiwang.com/loc/phome.php?v7.07&l=409" loaded, depending on your version and language. This is the confirmation that you are using Freegate correctly through an encrypted tunnel.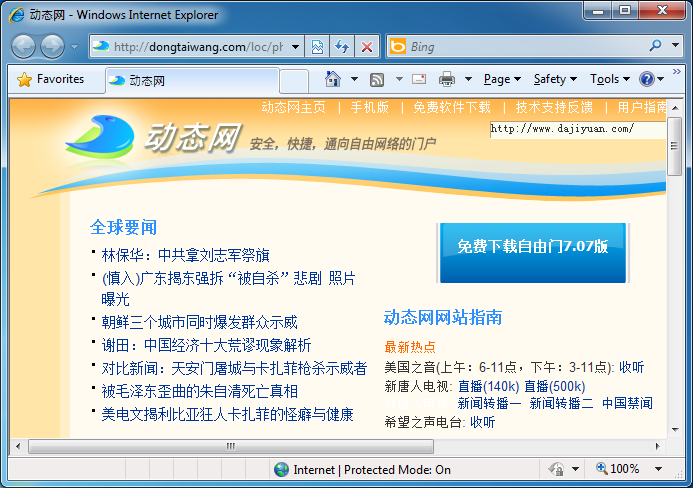 If all has gone well, you can start browsing normally using the automatically-opened Internet Explorer window to get around Internet censorship.
If you want to use another application with Freegate (for example the Firefox Web browser or the Pidgin instant messaging client), you will have to configure them to use Freegate as a proxy server. The IP is 127.0.0.1, and the port is 8580.
Under the Settings tab in Freegate, you can choose your interface language from English, Traditional Chinese, Simplified Chinese, Farsi and Spanish. Under Status, you can track your upload/download traffic through the Freegate network. The Server tab allows you to pick from several severs, one of which may be faster than your current connection.