Alkasir
Alkasir is an innovative server/client tool facilitating the tracking, analysis, and circumvention of Web site censorship (filtering). Alkasir is mainly used in the Middle East region but can be used globally.
It utilizes a dedicated client software and is powered by proxy servers. Its innovative feature is to keep the list of blocked sites up-to-date by getting semi-automatic updates, and allows reporting of newly blocked sites through its globally-distributed user community.
General information
How does Alkasir work?
Alkasir has implemented two innovative and complementary new features. It is designed as a Web browser (based on Mozilla Firefox) with an embedded pre-configured HTTP proxy, and a self-learning blocked URLs database.
Bypassing Internet censorship
The innovation is that Alkasir only relies on its blocked URLs database and built-in proxy to reach blocked URLs. Non-blocked URLs are accessed directly, without proxy requests. Using HTTP proxy only when it is really needed optimizes bandwidth usage and allows non-blocked Web pages to be accessed more quickly (since directly-accessed Web pages load quicker).
Keeping the blocked URLs database up-to-date
Any time a user suspects that a URL is blocked, he can report it via the software interface. Alkasir checks the report thoroughly, then asks that country's moderator (a human person) to approve that addition to the database (to keep the database relevant and to prevent undesirable content, such as porn, from entering it).
A single "blocked content unit" (a Web site that is blocked in a certain country) is often dependent on more than one URL. When Alkasir detects a blocked URL in a certain country, it checks all the URLs referenced on that page to determine whether any of them are also blocked. Thus, Alkasir builds its blocked content database through a simple, primitive, one-level spidering methodology.
Finally, if an Alkasir user fails to load an URL with a direct request (i.e. not through the proxy), the client notes this and automatically checks to see whether it is a new (not yet in the database) blocked URL or not, and if it is, adds it automatically.
The database is available at the following address: https://alkasir.com/map.
To summarise, Alkasir's blocked URLs database is continuously fed by all Alkasir users (using human submissions or automatic reports) and the Alkasir browser relies on this database to optimize the global tool's reactivity by redirecting only blocked URLs requests through the proxy.
How do I get Alkasir?
You can download Alkasir directly from the website or receive it by e-mail.
Download Alkasir via the website
You can download Alkasir from the official website, https://alkasir.com.
Depending on the operating system and programs you have, you will choose one of the following versions:
If you have Windows Vista or Windows 7 and have Mozilla Firefox installed, you only need the "Alkasir Installation package" (which requires installation, size: 3 MB).
If this is not the case, you need to download the "Alkasir Complete Installation package" (which also requires installation, size: 41.04 MB)
If you are not able or do not want to install Alkasir permanently on the computer you are using (e.g. a shared computer in an Internet café or library), you can download any of the two USB versions of Alkasir:
Alkasir USB package without Mozilla (does not need installation – portable – but needs Mozilla Firefox; size: 4MB)
Alkasir USB package with Mozilla browser (does not need installation – portable; size: 12MB)
Please note that both versions require the .Net Framework to be installed, which is pre-installed on all Windows Vista and Windows 7 operating systems.
Optionally, you can register an account to receive regular updates and news from Alkasir by e-mail. Updates are released on a regular basis, so you should be sure to get the latest version from the official website.
Receive Alkasir by e-mail
If the Alkasir website blocked in your country, you can get the installation file from an e-mail autoresponder. Simply send a blank email to the address get@alkasir.com to request the installation file as an attachment.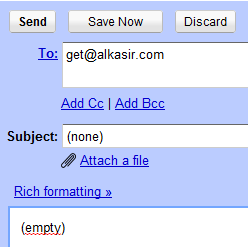 You will receive an e-mail with the software attached and instructions on how to install Alkasir on your computer.
If you don't receive the software after a few minutes, you may need to add get@alkasir.com to your contacts whitelist so the e-mail is not considered as spam.
Installation
Once you have downloaded the installation file, double-click on the software icon.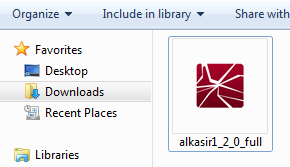 You may get a security warning. Click Run or Accept.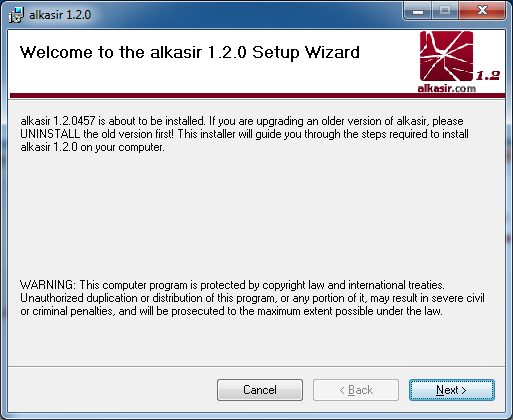 Follow the Alkasir installation wizard by clicking the Next button.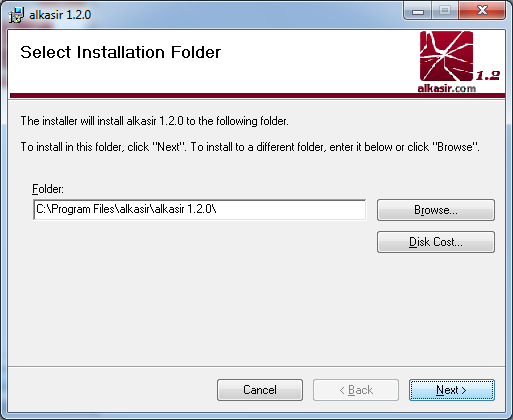 You can change the installation folder (but this is not recommended).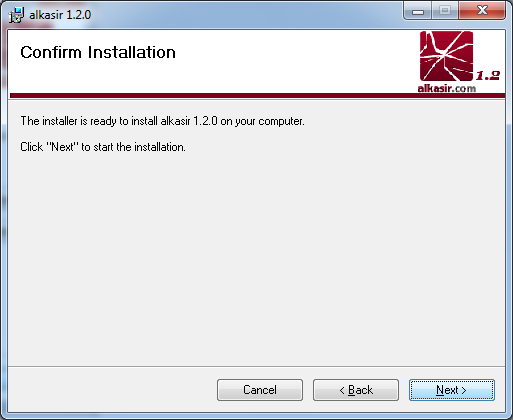 When ready, click Next.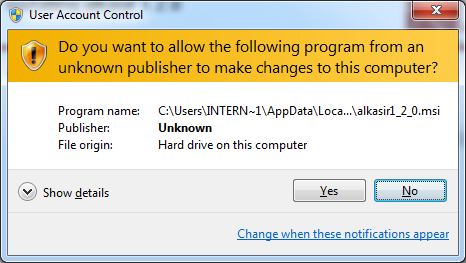 Validate the security warning shown above by clicking Yes.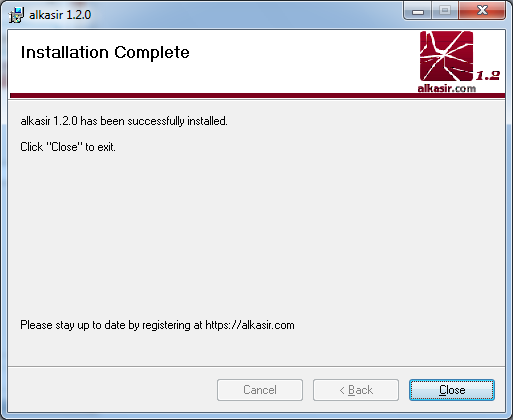 When the installation is finished, click Close.
How do I use Alkasir?
Alkasir should start by default whenever Windows is started. Ensure that the software is running by checking that the Alkasir icon is displayed in your system task bar, near the clock.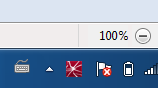 Right clicking the icon reveals the configuration menu.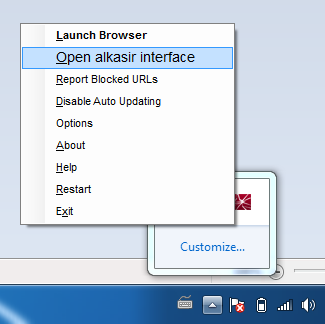 Launch Browser
Open Alkasir interface
Report blocked URLs
The main Alkasir interface gathers all the features from the software. You can do the following:
start, shut down and restart the software
launch the Alkasir browser
register or login on https://alkasir.com
get updates for your installed version of Alkasir.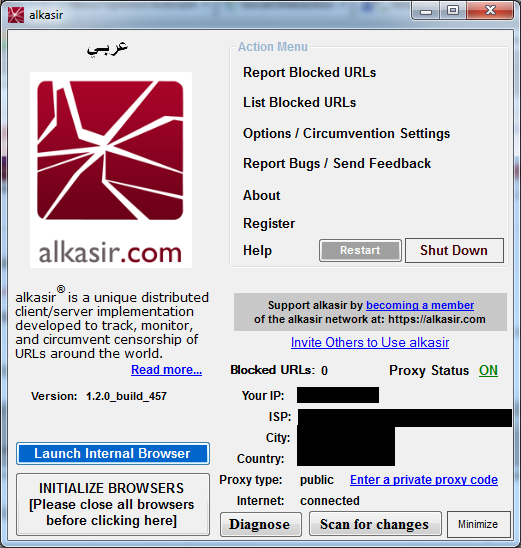 First, let's launch the Alkasir browser.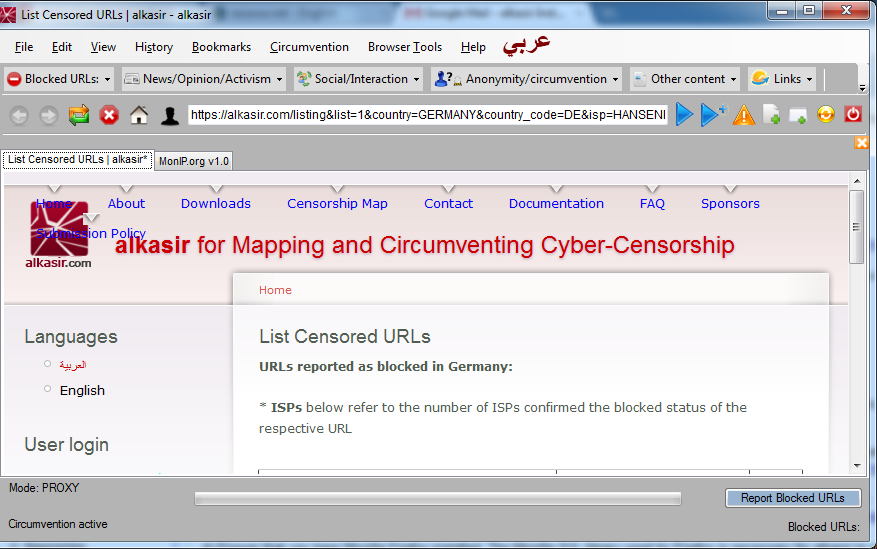 The browser's graphical user interface is very similar to Mozilla Firefox as it is based on the same technical framework. Note some specific features:
a button for complete Arabic localization
the "Report Blocked URLs" button, to use when you are trying to reach a website that appears to be blocked. This button is displayed near the address bar and the status bar.
an Alkasir icon to go to the main interface.
You can also find other menus to integrate your Alkasir browser with your Alkasir account.
It is possible to enable or disable the automatic updates for the software, the proxy list and blocked sites database.
If you are arrive at an error page that could indicate a blocked website (such as an Access Denied or Connection Timeout error), you can submit this URL to the Alkasir database by clicking the Report Blocked URL button. You can choose to be notified of the moderator's decision about whether to enter this URL into the database or not (this decision is based on the tool's policy).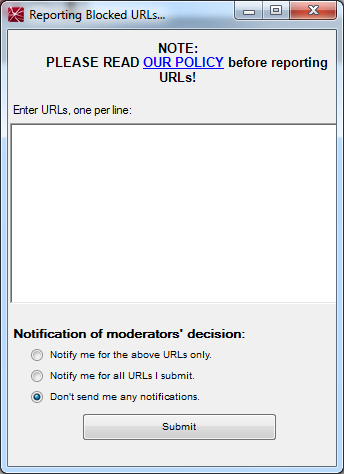 Further information
Visit https://alkasir.com for: