How to track savings account history (transactions, performance)
At the bottom of the screen, click View Transaction History.
A screen like the following appears (only part of the screen shows here):



This screen shows the following:
Date of transaction

Payment ID
Transaction ID

Type of transaction

General ledger code
Amount of debit or credit
Client or group name
Date posted
User who posted the transaction
Adjustment notes, if any

At any point, you can see the history of a savings account: the original application, whether it was approved, and its current status.
At the bottom of the screen, click View Status History.
A screen like the following appears:


On the details page (dashboard) for centers, groups, and clients, performance history is summarized in a box at the upper right.
It includes the following:
Date account opened
Total deposits
Total interest earned
Total withdrawals
In the center, group, or client dashboard (details page), you can see a record of all changes that have been made. At the bottom of that screen, click View Change Log. It might look like the following screen: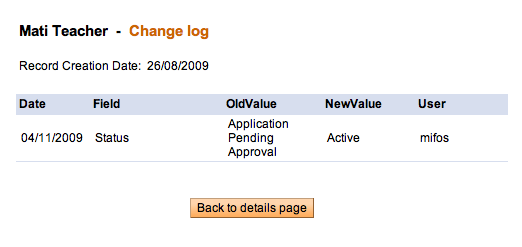 You can record any notes about the savings account. To see all notes already recorded, in the recent Notes box at the bottom right of the screen, click See All Notes. Any notes added in other sections, such as account information or adjustments, appear in this section as well.
To add a note, follow these instructions:
Click Add a Note.
The following screen appears:



In the Note box, type the note.
Click Preview to review your work. If you want to make changes, click Edit, make changes, and click Submit.
The note now appears in the Recent Notes section.